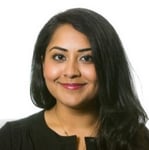 Bhavna Sakhrani
Strategic Partnerships
The 2018 annual Draper's Fashion Forum in London, retail's most exclusive event for fashion retailers and brands, put digital and long-term vision at the heart of this year's discussions. Mercaux's CEO, Olga Kotsur was invited to speak on a panel amongst senior directors from some of the world's leading brands, including Adidas, J Barbour & Sons, and Wolf & Badger. Together, they discussed how retail can best adapt to the omnichannel customer.
In case you missed it, we have put together a summary of the key takeaways:
Understand what you want your stores to be:
Physical stores play an invaluable role in retail, even in today's ecommerce centric environment. For many, brick and mortar stores still account for the vast majority of revenues (typically between 75-80%). But besides contributing to revenue, the role of physical retail is changing and needs to be clearly defined. In order for off and online channels to work together, it is important to understand the role that stores play and the value that they bring to customers. Whether they are experience & discovery centres, fulfilment and click & collect centres, customer service centres, showrooms, etc., different stores fulfil different needs based on their location and size. Therefore, it is important to have a clear vision for the role of retail in order to ensure in-store digital capabilities complement those needs and enhance the benefits it brings.
Single View - not just of stock but of customer, marketing and the business:
Doing business in an omnichannel world means not only having a single view of your business, but also of your customer, brand and marketing initiatives. Retailers operating as multichannel businesses know the importance of having a single view of inventory in order to have a cohesive approach both online and offline and to enable innovative models such as click and collect and ship from store. However, improved business performance also necessitates a single view of the customer and of how you connect with them. With a holistic view of their customer base, retailers should access and action initiatives across channels and meet the increasing expectations of the connected customer – from targeted marketing online to personalised interactions in store.
Sales people – do not forget that they are one of your most important resources:
While it is imperative for retailers to foster change and move towards the store of the future, brands should be cautious of not losing sight of their biggest asset, their sales people. Sales people are in constant contact with customers and the product and are the closest link between the brand and the customers in the store environment. Store assistants are tuned into to know what customers are looking for, their feedback on products, how products are being styled together and what are the best and worst sellers in the store. Empowering store staff with the tools and information they need to serve customers is a vital investment in order to stay ahead and deliver a consistent experience across all channels.
Mercaux is the leading mobile platform, enabling retailers to realise their in-store digital transformation. Read our client success case studies to learn how they are leveraging our in-store technology.