April 29, 2020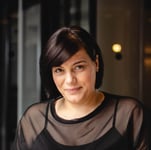 Cristina Afonso
Global Head of Customer Success
For someone in my line of work (Customer Success), the most rewarding moments manifest themselves when a customer wins big by putting your product to good use. This story is of one of those wins.
As the world adapts to a new reality and the inherent challenges and problems that have been brought on by this pandemic, some industries and verticals have been hit much harder than others. Retail has certainly taken a fair share of the burden.
Many industries have taken to remote work to continue operating their businesses with little disruption; It's fully transformed the way people work. Popular video conferencing products such as Zoom have become (their share prices doubled in value between January and March). I can guarantee zooming is about to become a whole new verb...
But where does that leave Retail that has always benefited from personalised one-to-one interactions with customers?
Ekonika, a popular shoe retailer in Russia and a long-standing Mercaux customer, asked themselves this same question and have taken a novel approach to solve this quandary. Determined not to be beaten by store closures, the retailer empowered their staff to work from home to engage their loyal customer base with a highly personalised approach to drive sales. The results are worth talking about.
Remote, but not distant
Faced with a week-long government directive to close up shop, coupled with a very real warning that it could be extended indefinitely, Ekonika wanted to make sure they could keep staff active and productive whilst continuing to serve customers even with the doors of their stores closed. They wasted to no time in devising a strategy that would deliver results in client and staff engagement, stock management and more importantly, sales.
Having previously embraced digital tools in their stores via Mercaux (where Sales Assistants deliver a tailored personalised service to shoppers through the App), the retailer saw a possible quick win by having the team use the same technology whilst working remotely.
Suggested looks to purchase based on historic purchases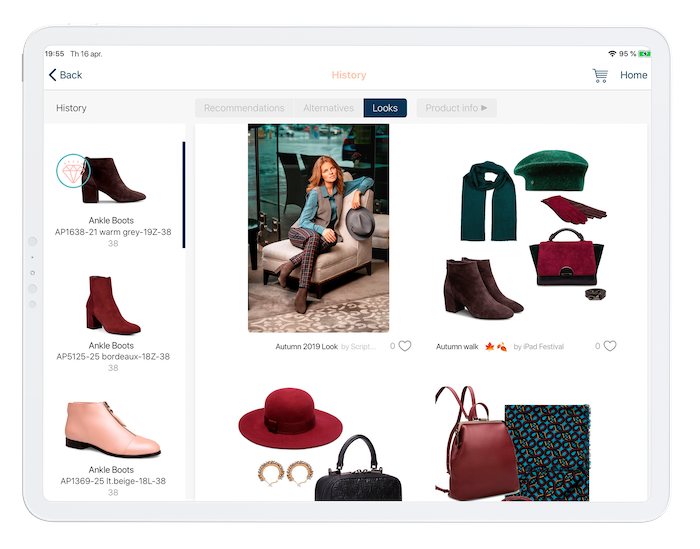 Ekonika has a track record of embracing new retail concepts (such as pop-up shops) which made the leap to remote selling much easier. In fact, the development of a personalised shopping experience via messaging was already in the works for the retailer who sped up the process to make use of their team's availability during the lockdown.
With little time to waste, the retailer worked with its dedicated Customer Success Manager at Mercaux to put in place the brand-new service model. In three days, all the work needed to operate the program was completed: creating working instructions for staff including communication scripts and frequency.
The concept and format are simple: equipped with the Mercaux app and its Clienteling and Omnichannel modules, the Ekonika sales team have become remote personal shoppers, creating and sending emails with highly personalised product recommendations and styling suggestions (handpicked based on the customer's previous engagement with the brand in-store and online and saved preferences). The customer is then contacted by their designated personal shopper via WhatsApp (for those who gave permission for this contact format) to follow-up on the shopping suggestions.


View of previous online and offline purchases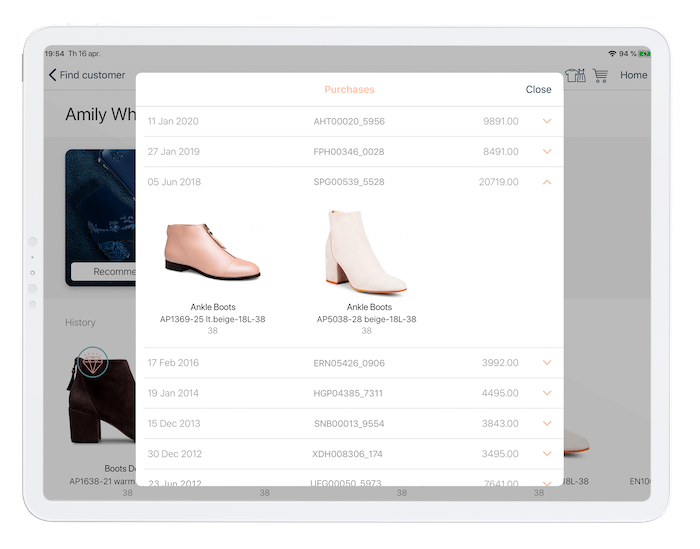 Clients are able to purchase via the eCommerce site (being directed to the product page in the email) or to place an order via their personal shopper to be delivered to their home and paid on arrival (a payment method extremely popular in Russia).

Email template for communicating with customers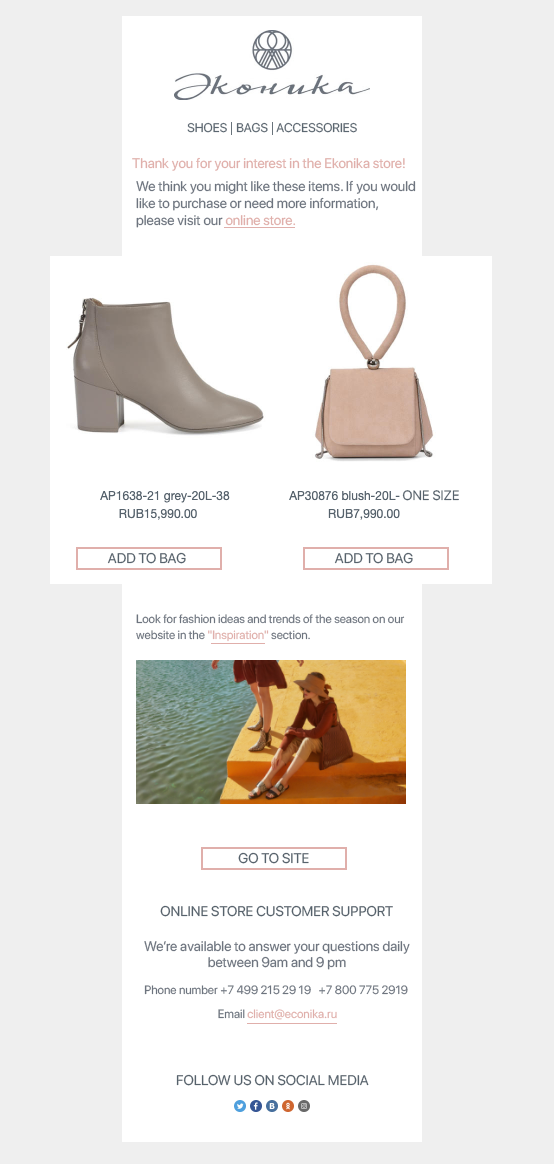 So, does it work?
Although the programme has just been launched (less than a week ago), early results are very encouraging, demonstrating that the highly personalised, 1to1 approach is a winner both in-store and remotely.
Each team member has a target of contacting 40 customers per day, meaning that enthusiasm for the campaign remains high. Here are some of the key figures for the first week of the program:
> 6,400 personalised emails sent to loyal clients
> 5% of email recipients visited the eCommerce website to explore the product range
> 178 new unique visitors to the brand's website
> 1.7% Conversion rate

Suggested products to purchase based on historic purchases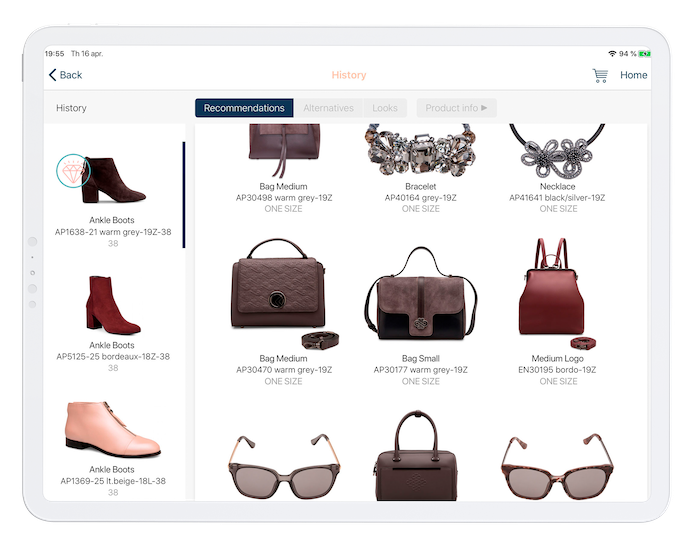 What's next?
With promising numbers, positive feedback from customers and a workforce that remains as engaged and energised as they were in-store, the Remote Personal Shopper programme is set for success. Ekonika believes that scaling is the key to bigger and better results so the next week will be dedicated to adjusting their processes and safety measures to allow their personnel to temporarily use their own devices and amplify the effects of this new way of working.
The retail landscape will no doubt change in a big way in these next few months as the world recovers from the health and economic implications brought on by the pandemic. The team here at Mercaux understands that things cannot (and should not) be the same as they were before lockdown and we continue to work with our clients (both old and new) to push through and come back stronger - Ekonika is just one of the many examples where embracing the future of technology can keep tradition alive and well.