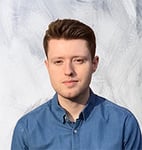 Jake Marshall
Digital Content and Marketing, Mercaux
Last month, Olga Kotsur, co-founder and CEO of Mercaux, was joined on stage at Courier Live by Ana Santi, a fashion and retail journalist with 15 years of experience in the industry. Courier Live is an event dedicated to bringing the movers and shakers from the world of modern business together. On the retail stage, Ana interviewed Olga on 'getting the online/offline retail mix right'. Read on for an overview of their conversation.


Ana: I've been covering fashion retail for almost 15 years, and this - how to make digital and physical stores work together, seamlessly, to drive revenue - has been one of the biggest issues (alongside sustainability) giving retailers a real headache. And we're still talking about it, which shows the extent of the challenge.

Mercaux recently published a white paper called The Store of the Future, and held a dinner for 20 fashion retail execs to discuss the findings. A key takeaway was that, whilst much is made of the rise of e-commerce and the decline of bricks-and-mortar retail, for established brands that have a retail portfolio, this isn't the case, especially as up to 80% of all sales still come from stores. What is changing - and will change - is how stores are being used by consumers, in conjunction with digital shopping - as "changing rooms" or places to "experience" the brand, and still places where you shop.

Could you talk a little about what changes we can expect to see and, as a result, what the key challenges will be? And what retailers should be doing?

Olga: Consumers are changing. We are all leading busier lifestyles and we expect speed and convenience in-store, to match what we have become used to when shopping online. At the same time, the store is changing – faced with competition from online, stores need to find a new unique selling point. Stores have a key benefit that differentiates them from online – and that is their people. More than ever, customers want a personalised service, and stores need to leverage their sales associates to offer that. People are the biggest asset for retailers when it comes to the shifting role of their stores.

So, the biggest change we expect to see is empowerment of sales associates with new tools to tailor the customer experience. Whether it's the fundamentals, like click & collect, or even using AI to bring them new outfit ideas. Retailers can expect to benefit financially from this. One of our clients, Nike, increased conversion by 15% by giving SAs access to our sales assist solution.

Ana: One area that retailers with stores struggle with is tracking customer data - which every retailer is obsessed with. What can retailers do here?

Olga: The biggest reason for stores not having visibility of the customer purchase journey in-store is a lack of technology. The technology is available, but many don't actually understand the value of tracking in-store behaviour and leveraging this data.

What retailers need is a solution that gives them visibility of customer actions, that goes beyond just a simple CRM system. This is another reason why we created Mercaux. If a customer walks out of a store because they couldn't find the product in-stock, or if they find something in-store and purchase it later online, before there would be no way to track this, but Mercaux unlocks that data for retailers.

Ana: Even when you take into account all the benefits we've discussed, your experience shows that there are still too many retailers reluctant to invest in tech, and when we've spoken before, you hit me with some strong rhetoric - "the time to think is gone. The old way is not working anymore". Why this reluctance? Is it all down to cost? How have you managed to convince previously reluctant clients?

Olga: At times, it is a question of cost, but also a question of time. Retailers are often tied up in long projects to modernise systems that could have been in place for many years, and they are of the mindset that they can only work on one project at a time. The way that we manage to convince clients is by helping them to understand that their customers aren't going to wait. Retailers need to start somewhere, so why not start today with the basics?

We developed our platform so it can integrate with all kinds of systems, old and new, and we made it modular, so that retailers can start with basic integrations before thinking about something more complex like Clienteling. So, after all, modularity is key to helping retailers overcome reluctance.

Ana: In particular, you attributed this reluctance to the UK market, saying that 15 years ago the UK was at the forefront of digital and physical transformation but is now in danger of lagging behind - why? Which markets are forward-thinking?

Olga: Because the technology in the UK is often 15 years old or even older, it's fragmented and ageing, and many retailers see their tech stack as a burden that is holding them back from digital transformation. On the other hand, markets like Russia and South America didn't place as much emphasis on implementing heavy tech systems 15 years ago, meaning that now they are able to work in a much more agile way, thanks to their more agile systems. So these are the markets which are currently more forward-thinking.