May 5, 2021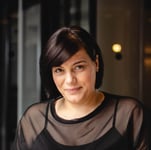 Cristina Afonso
Global Head of Customer Success
As retailers experiment with new ways to engage their dispersed customer base, we take a look at what Remote Selling looks like in practice - and how to go about deploying it, quickly.
Remote selling is providing a brand new channel for in-store and online, facilitating 1-2-1 communications via WhatsApp, SMS, email and video call. And crucially, it can all be launched in a matter of weeks.
To take a look at how fast deployment works in practice, we're sharing Ekonika's Remote Selling story, delving into how they upgraded their Clienteling solution to include remote selling in just a matter of days, via easy integration with their existing systems and technologies. The rapid implementation process was followed up by a thorough onboarding programme, empowering Ekonika with the digital tools to generate impressive results within just a first week - read on to find out more.
How can Retail achieve the level of 1-2-1 personalisation found in-store, out of the store?
This was the very question that Ekonika, a popular shoe retailer in Russia and a long-standing Mercaux customer, have been asking themselves. Determined not to be beaten by the 2020 store closures, Ekonika empowered their staff to work from home to engage their loyal customer base with a highly personalised approach to drive sales. The results are worth talking about.
Remote, but not distant
Last year, Ekonika were faced with a week-long government directive to close up shop, coupled with a very real warning that it could be extended indefinitely. With this in mind, Ekonika wanted to make sure they could keep staff active and productive whilst continuing to serve customers even with the doors of their stores closed. They wasted no time in devising a strategy that would deliver results in client and staff engagement, stock management and more importantly, sales.
Having previously embraced digital tools in their stores via Mercaux (where Sales Assistants deliver a tailored personalised service to shoppers through the App), the retailer saw a possible quick win by having the team use the same technology whilst working remotely.
Suggested looks to purchase based on historic purchases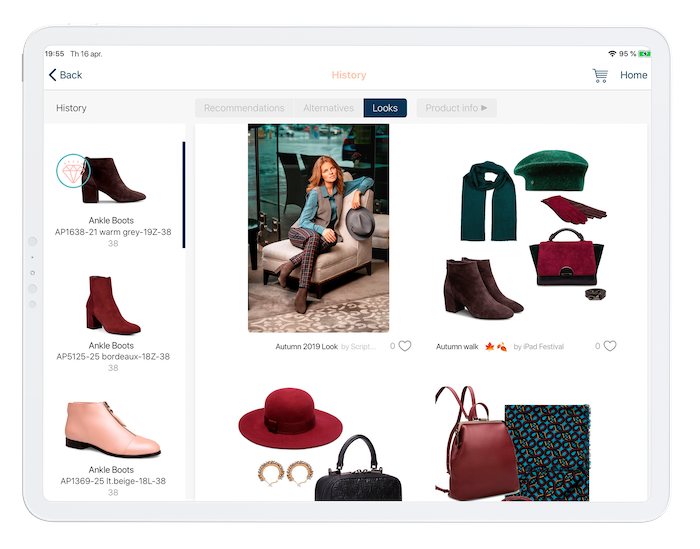 Ekonika has a track record of embracing new retail concepts (such as pop-up shops) which made the leap to remote selling much easier. In fact, the development of a personalised shopping experience via messaging was already in the works for the retailer who sped up the process to make use of their team's availability during the lockdown.
With little time to waste, the retailer worked with Mercaux to put in place the brand-new service model. By building on their existing Mercaux Clienteling solution, Ekonika launched the remote experience in just a few days, with easy to follow instructions for staff including communication scripts and frequency.
The concept and format are simple: equipped with the Mercaux App, and its Clienteling and Omnichannel solutions, the Ekonika sales team became remote personal shoppers, creating and sending emails with highly personalised product recommendations and styling suggestions (handpicked based on the customer's previous engagement with the brand in-store and online and saved preferences). The customer is then contacted by their designated personal shopper via WhatsApp (for those who gave permission for this contact format) to follow-up on the shopping suggestions.


View of previous online and offline purchases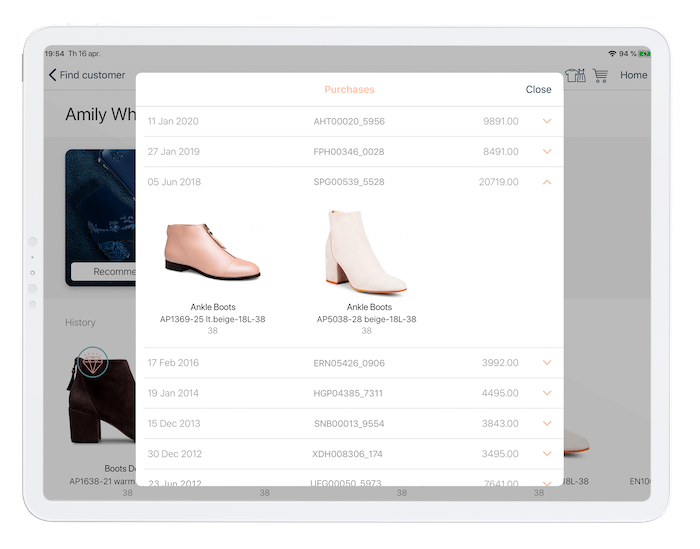 Clients are able to purchase via the eCommerce site (being directed to the product page in the email) or to place an order via their personal shopper to be delivered to their home and paid on arrival (a payment method extremely popular in Russia).

Email template for communicating with customers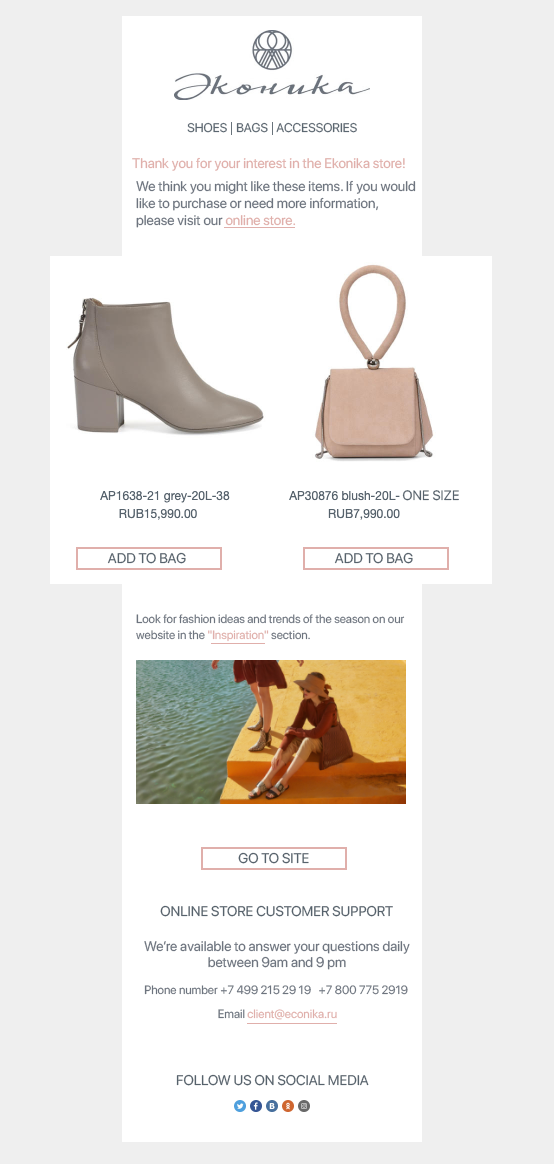 So, does it work?
Not only was feedback from staff and customers positive, but this was backed up by the results themselves, demonstrating that a highly personalised, 1-2-1 approach is a winner both in-store and remotely, leading to improved online conversion and bigger baskets.
Although Ekonika's remote selling project had its roots in adapting to the COVID-19 pandemic, it proved to be a highly successful strategy irrespective of whether stores are open or closed.

Suggested products to purchase based on historic purchases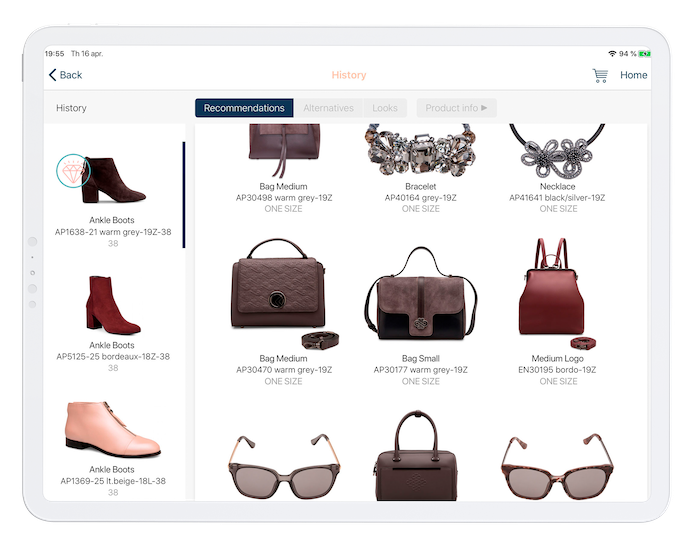 What's next?
Only recently, we conducted our own industry research, asking 1,500 consumers if they would be keen to engage with retailers remotely, even when stores are open - the answer was a resounding yes, with 44% saying they would still be keen to engage remotely via WhatsApp. What this shows is that remote selling will remain a valuable revenue stream for retailers both now and into the future - and if Ekonika's story is anything to go by, it can all be launched in a matter of weeks.