Is Physical Retail going through a Revolution, Evolution or an Apocalypse?

This was the question posed by Nauta Capital, the organisers of an event I recently attended, who also happen to be one of our investors. With a room packed full of retailers, investors and retail tech companies, you weren't going to get too many people holding their hands up for the apocalypse (although one person did stand up to declare an apocalypse is on the way, unless we do something about it. Fair point — you only need to read the news to see the struggles being faced on the high street).

The event was held to launch a report: RetailTech Startup Report 2020 - A deep-dive into Europe's B2B retail tech startups: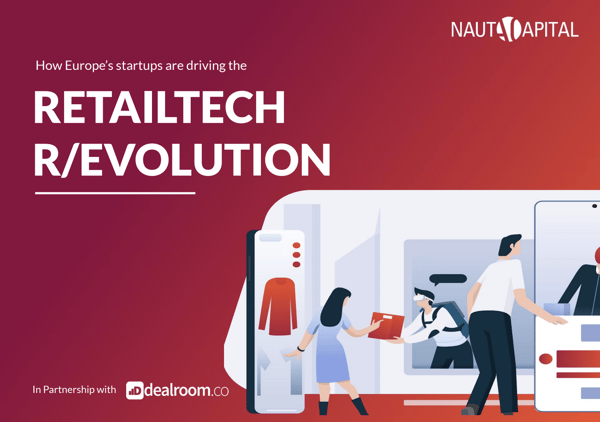 Why is this topic so important, particularly for brick-and-mortar retailers? We are all very aware that the majority of retail purchases still occur offline — on average, in-store purchases make up around 80% of total revenues. The report by Nauta Capital puts this into perspective by predicting global retail sales will reach $30 trillion by 2023. Even if e-commerce continues to grow and takes 25-30% share over the next 2-3 years, there's still a huge amount revenue being generated offline in the majority.
Why are we talking about an Apocalypse?
With the proliferation of e-commerce, retailers have been quick to realise that the expectations of customers for the retail store has changed. Here's a very simple scenario for purchasing a red dress:


The Online Experience
An online customer heads to the website of a fast fashion brand and types into the search bar that they are looking for a red dress. Instantly, they are served a selection of dresses to choose from, fashioned stylishly on a group of models. They choose a dress they like and are taken to a page that not only displays the product in question, but gives them the details of where it was made and the materials used, suggests shoes and accessories to complete the 'look', and displays inspirational images from celebrities and influencers wearing the dress.
Additionally, there are reviews from fashion magazines alongside the products and a gallery from a recent catwalk show in New York featuring the dress. The customer can instantly see if her size is in stock and purchases the dress instantly to be sent to her house the next day.


The In-Store Experience
A customer heads to the fast fashion store looking for a red dress. They approach a sales associate who walks them around the store for 15 minutes suggesting different red dresses to choose from hanging from the various racks. They eventually come to a dress the customer likes. The customer asks the sales associate where the dress was made, who has recently been seen in the dress and if it's available in her size.
Being a fast fashion brand with new products being introduced on a daily basis, the Sales Associate (through no fault of their own) provides the limited information they have on the dress that they remember from the VM brief. The sales associate leaves the customer to check in the stock room. 10 minutes later, the sales associate returns to say they do not have it in stock. Cue the whole process starting over from the beginning. The customer doesn't find anything in her size and leaves unhappy.
You can see from the example above how different the experience is for the customer, particularly around speed, information and service. Yes, the store gives them an opportunity to feel and try on the products, but with access to a retailer's endless aisle online, and the convenience of next day delivery and free returns, why go into the store at all? This is the question being asked by consumers today and why some fear an Apocalypse of the high street.
If it is so bleak on the high street, why are pure play ecom retailers opening brick-and-mortar stores?
Suzy Ross, a senior adviser at Accenture commented in a recent article, "Retailers realise that online and in-store are not either/or choices. Instead, they offer an opportunity to extend the customer journey with new experiences that increase engagement." Pure play retailers have quickly realised that the store means something different to consumers. Stores are not simply there to allow customers to purchase products. Stores are increasingly being seen as a marketing, discovery and experience centres.
Yes, customers today want to feel and try on the products they are about to purchase, but they increasingly want to engage with the brand in new and exciting experiential ways, as well as be inspired by Sales Associates (Something that's impossible to deliver in the online world). Retail Gazette covered the phenomenon in an article published last year, "Is Clicks-to-Bricks the new Brick-to-Clicks?"
At Mercaux, we work with a company who did exactly that: Stadium Goods. After establishing themselves purely online, they decided to open a store in New York, and used Mercaux to bridge the gap between online and offline. Their decision to move into brick-and-mortar has been such a success, they recently announced their second store opening in Chicago in Spring 2020. We are extremely happy that a digitally native company as well-known and respected as Stadium Goods has chosen to use Mercaux as their in-store digitalisation partner.
With an understanding of what today's consumers want from a store, it's far easier for pure play retailers to create brand new stores that exceeds customers' expectations from its very inception. But what about the stores that already have a presence on the high street? Those that are already generating 80% of their revenues from brick-and-mortar? How hard is it for them to change to satisfy today's educated consumers? Does it require a full-on revolution?
The problem is, revolutions are scary, and change can be painful!
Does the store of the future require a revolution or an evolution? Revolutions suggest a complete upheaval of current systems and large transformations that require uncomfortable restructuring. Evolution, on the other hand, establishes growth and progress at a sustainable, yet productive rate. For existing brick-and-mortar retailers, taking an evolutionary approach to this question can be the only way to (crucially) protect existing revenues, whilst making changes to drive new. As the report by Nauta highlights, there are a lot of retail technology companies out there ready and willing to help in digitally transforming a retailer's store, but a lot of retailers are asking a very credible question:
Where do I start?
Here at Mercaux, we firmly believe that a retailer will only be successful in digitally transforming their store if they take a measured evolutionary approach. What does this mean? Respect how your store operates today, the legacy technology stack you have in place, and introduce new technologies that complement and elevate your sales associates' ability to serve and sell. You want to prove to them that these technologies make their lives easier and are not seen as extra work.
Similarly, these solutions should not be a burden on your already stretched IT departments. Vendors should have solutions that integrate seamlessly with existing technology stacks, so costly replacements of these systems in order to integrate new solutions are not required, and you can be up and running in a matter of weeks, instead of months or years.
Using Mercaux (operated by sales associates through an app on a tablet device) as an example, we advise retailers to start with the Sales Assist and Omnichannel solutions. These enable sales associates to scan a product to check for availability in-store, eliminating the need for them to walk back and forth from the stockroom. If the product is not available in-store, the system will offer alternative products that are available in store, or check availability in other stores close by, or on the e-commerce site so the sale is not lost. This solution also encompasses search functionality to bring up product suggestions from the endless aisle (similar to e-commerce), rich product and inspirational content to help them sell and recommendations for completing a look. In turn, these increase UPT and drive a sale uplift for your store. Once the benefits of using this technology are recognised by staff, more advanced solutions such as Clienteling, mPOS or Click and Collect can then be phased in. For more details, see our page dedicated to your digital transformation journey.
Julia Huang, Managing Director, American Express Ventures, summarised in the report, "We believe the physical and digital retail worlds will continue to meld. Physical retail will remain an important part of the customer journey, but retailers will tailor their physical experience to meet the unique demands of their customer base. Helping drive this shift will be the continued blurring between the consumption of goods and consumption of services."
Is physical retail going through a Revolution, Evolution or an Apocalypse? You decide.
How is the introduction of digital technologies into stores received by consumers? Our CEO recently wrote an article on this very subject. Check out her thoughts here.