What is Customer Experience?

The Retail industry is in the midst of Digital Transformation. Alongside this, brick-and-mortar retailers continue to hear how important it is to improve customer experience if they want to stay relevant and successful in this new Digital Era. They are deploying different digital tools – Magic Mirrors, AI styling, Tablets with endless aisle, etc. – to improve the customer experience, resulting in (or sometimes saving) a sale.

But first, let's ask ourselves a simple question "What is Customer Experience?". Many retailers believe it is like one continuum spectrum – on the one side, you have very happy customers and on the other, very unhappy ones.
The theory claims that humans are not wired to either love or hate. We can love our work because of the impact that we see, but hate that it can take our manager months and months to approve a new project. We can deeply love our husbands and wives, but be super frustrated when they are not on time for dinner (or when they start watching the new episode of "House of Cards" without us).
Well, the same thing happens with your customers – they can love and hate you at the same time. They can love going to your stores, because of the products and look & feel of the store, but hate how long they need to wait for sales associates to check for availability of a product. They may love your new limited-edition collection that they learned about via your Instagram account, but hate the fact that your sales associates have no clue about it in-store.
| | |
| --- | --- |
| | The truth is, Customer Experience is not just a dot on the spectrum, but a mix of "Wow Feelings" and "Frustrations" that your customers experience. |
And this is where lots of things have changed over the past 10 years. Customers are influenced by digital, so their "Wow" expectations are higher and tolerance to "Frustrations" is lower. Your customers have got used to the speed and convenience of digital where they can get access to any information in seconds. This is their new benchmark and they want the same speed and convenience in-store. They are frustrated when sales associates can't perform basic (at least in their eyes) activities like quick product search, stock availability checks, or alternative suggestions if the desired product isn't available in the right size. At the same time, they need a reason to come back to, to stay loyal, so they still need the "wow" factors.


That is how retailers need to approach digital transformation and in-store technologies in particular. Focusing on "Wow" elements without addressing the customers' "Frustrations" won't tip the scale enough to offer a great shopping experience, so retailers need the tools that can address both.
Do Sales Associates have the right tools to provide the best Customer Experience?
This is how most retailers still operate: customers enter your store. At some point they interact with your sales people, and in the end some people buy (let's say 15% of them end up buying and on average they spend $50), and others don't buy anything and simply leave.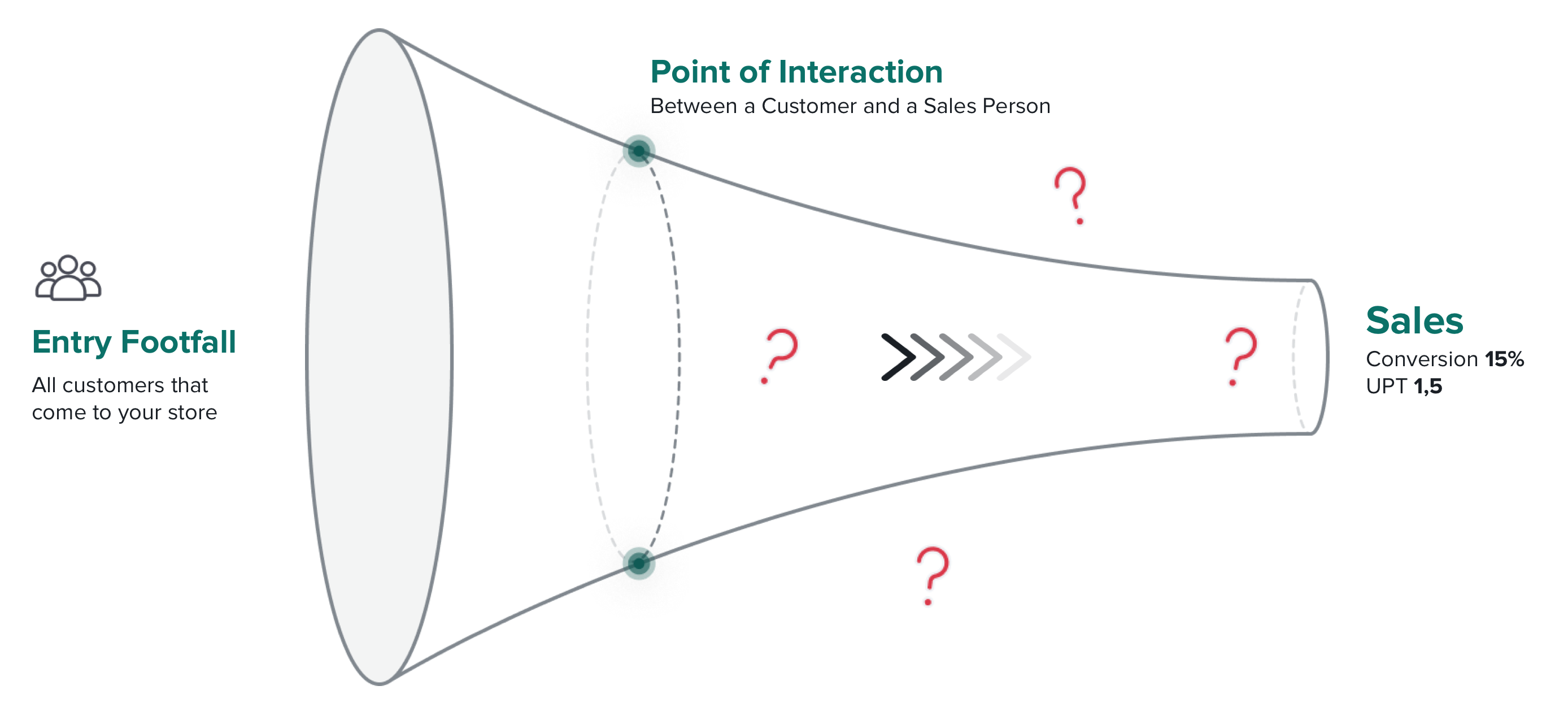 The issue is that while customers' expectations grew with the digital era, not much was done to support sales associates with addressing new "frustrations" (like quick product search or alternative suggestion that are readily offered through ecommerce) and even less when it came to providing "wow" experiences (like sharing how best to style the product with customers previously purchased items in-store and online, or offering to email products that they liked but were not yet ready to buy straight to their inboxes for purchasing later). Even worse, management teams don't have much visibility into how their sales associates are serving the customers and what went wrong with those customers who didn't buy - big areas affecting conversion in-store. Did they fail to find the right product? Was the product they wanted out of stock in their size? Were they offered to purchase it online instead, or try the same model in a different colour? Did they enter the store to look and feel the product and then went to purchase online later? Being able to answer those questions means having full control over your in-store experience, not just seeing the sell-out data in the form of store conversion and basket size.
That is why it's so important to empower your staff with digital tools that help them serve the customer better along the full in-store journey, not just at checkout. And by giving those tools not only do retailers eliminate frustrations and provide the "wow" experiences, resulting in immediate conversion and basket size benefits, they can also capture the in-store touch points in a customer's path-to-purchase.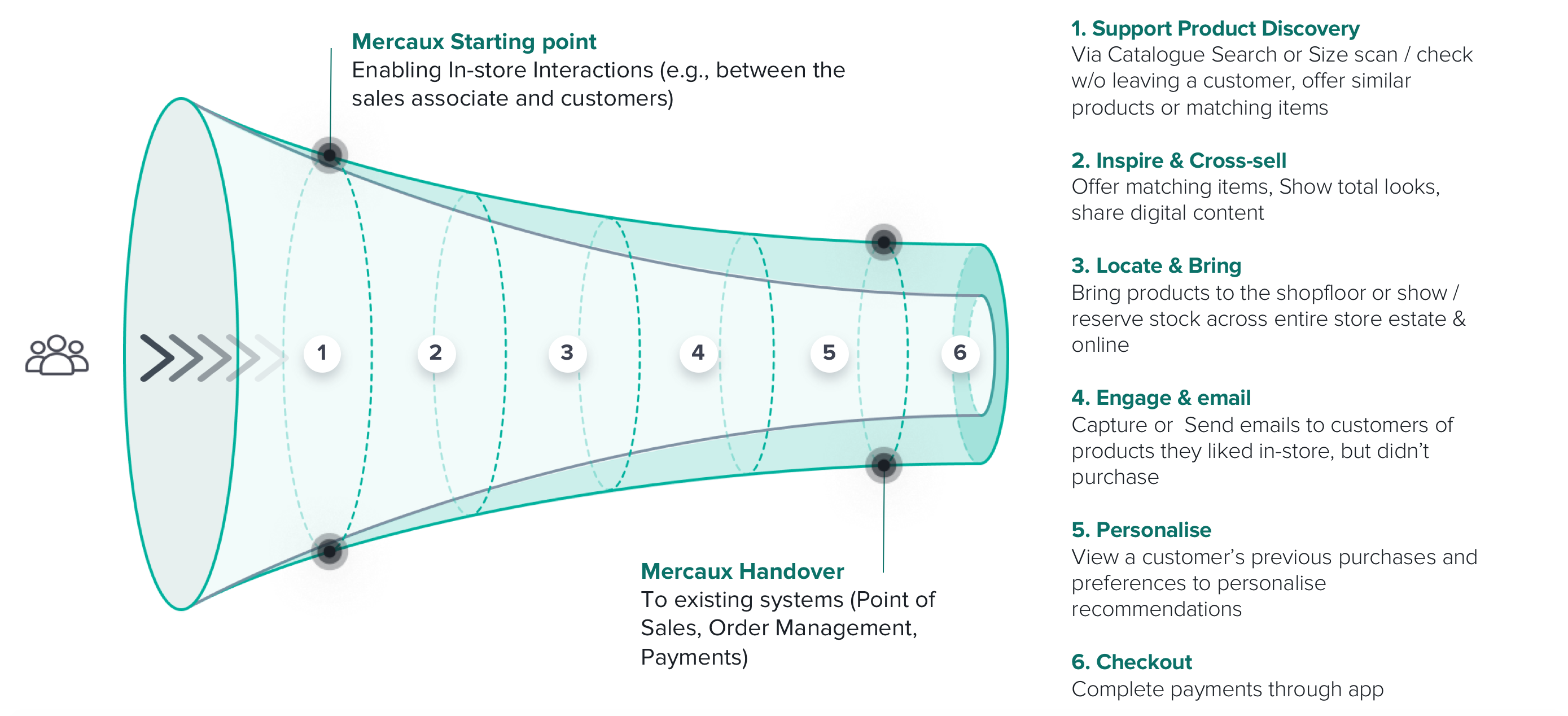 Sometimes, retailers do have stores with lower conversion than the rest of their estate. Looking at this metric in isolation, should head office consider closing the store? Potentially. But to answer this important question they need to understand what else this store is being used for. Are customers using this store to browse products and then purchase online at a later date, so should be considered in the attribution of that online sale (as is commonplace in attributing ecommerce purchases that originated from certain digital activities or third-party referrals)? Or, did they intend to purchase, but could not, due to a product not being available in stock?
So, where to start?
We understand that doing everything at once is hard, if not impossible. Sometimes there are technical constraints ("Can my legacy tech systems support digital transformation?"), sometimes operational ("Will my sales associates adopt these new technologies?"), more often than not, it's both.


Having this understanding in mind, we developed Mercaux as a modular platform that can be easily integrated with retailers' legacy systems and deployed step-by-step. Most importantly, each client can design their own digital transformation journey – some start with stock check and omnichannel capabilities (such as online order or emailing products that customer liked in-store for online purchase later), and then they deploy Clienteling as a second phase. Some prefer first to empower the sales associates with the stock check, recommendations and alternatives, and then add the digital styling module later. Others start by prioritising personalisation and Clienteling. Whatever path the retailer choses, it is important to get high ROIs, balance the "wow" features with the ones that eliminate frustrations, and pave the way towards the retail of tomorrow.