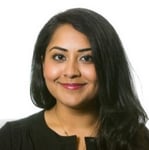 Bhavna Sakhrani
Strategic Partnerships
Mercaux and Re-Hub announce plan to introduce Mercaux's leading retail platform in China to enable digital in-store transformation
Mercaux has partnered with Chinese retail innovation platform Re-Hub to bring Mercaux's digital in-store solution to brands across Asia. With strong expertise in the Chinese start-up sector, Re-Hub lends its experience in retail and technology to companies looking to access and understand the local Chinese market.
Re-Hub's team has identified Mercaux's platform as a leading omnichannel solution that enables retailers to boost in-store conversion and overall sales. By equipping sales people with the necessary Sales Assist tools, Mercaux delivers a consistent and seamless customer journey across both online and offline channels.
With its ear to the ground, Re-Hub will provide Mercaux with a deep understanding of the Chinese market and the evolving needs of retailers looking to digitize the offline shopping experience. Re-Hub identifies the most promising deep-tech global start-ups, will leverage their network to introduce Mercaux's solution to the market.
Mercaux and Re-Hub's well-timed partnership is primed to benefit from China's highly tech-savvy retail market. As a leader in the retail revolution and a pioneer of 'new retail', China has emerged as a powerhouse of retail technology. While many other markets witnessed a slowdown in retail that demonstrated the need for change, China embraced the future of shopping with its digitally-savvy consumer base and is eager to implement innovative technology in the brick-and-mortar environment.
Re-Hub founders have extensive experience leading global brands and successfully developing start-ups in China and Asia in the New Retail space. Management includes Max Peiro (co-founder of Beabloo China, backed by Softbank), Michael Zhang (co-founder of Baozun, Nasdaq-listed), Nicolas Zurstrassen (ex-Digital GM of Nike China) and Nir Manor (ex-Global VP of Nielsen). Mercaux's platform is live with a number of top global retailers, and is trusted by companies such as, United Colours of Benetton, Nike and French Connection.
Max Peiro, CEO of Re-Hub,

commented on the partnership, saying: "We are excited to have Mercaux joining Re-Hub. The retail landscape in China is changing rapidly and brands are increasingly allocating resources to reinvent brick-and-mortar experiences to cater to fast-changing consumer needs. We are confident that Mercaux's offering can play an important role in this retail transformation in China."


Olga Kotsur, Co-Founder and CEO of Mercaux, – said: "With a massive digitally native population, entering the Chinese market was always important for Mercaux. Having worked with European retailers, we are excited to bring our platform to Asia, where we see that a demanding consumer base has forced retailers to innovate and adopt new technologies rapidly. We expect to engage this dynamic market to deliver consistent brand experiences across both online and offline channels and shape the future of retail."
For more information about our existing partnerships and how to become a Mercaux partner, please visit our Partners Programme page