February 26, 2018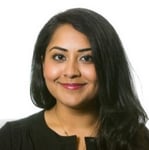 Bhavna Sakhrani
Strategic Partnerships
Channel agnostic shoppers are forcing retailers to reconsider how they connect with their customers to create rich and consistent experiences across every touch point.
Armed with an average of three devices per person, consumers worldwide are increasingly turning to their screens to shop, however, they may not actually be making any purchases.
According to market studies conducted on the modern shopper, customers are accustomed to researching for products and prices online, engaging with consumer-generated content such as blogs, peer reviews, and videos, but ultimately prefer to purchase offline. This means that consumers are turning to online channels for detailed product information, but also for exploration, inspiration and discovery, with questions such as, "What are comparable or alternative products? How should I pair these jeans? Is this on trend?" In fact, consumers are so easily influenced by digital channels, it begs the question of why they are returning to the store?
This behavior is referred to as "ROPO" – Research Online, Purchase Offline. As more product information is available online through user tests, reviews, and instructional videos, discerning consumers are augmenting their in-store shopping experience with a wealth of real-time information – some of them while still in the store. This behavior suggests that while online shopping is certainly mainstream, we cannot underestimate the importance of offline commerce, or the influence of online content on offline purchases.

So how can brands respond?
Brands are facing a complex customer journey: merging online and offline touchpoints, while maintaining a consistent brand experience across channels. This could mean that while online is a convenient channel to sell products, physical retail stores are the main touchpoint for brand building, customer engagement and loyalty. Besides the ability to look at and touch and feel products, customers in-store are interested in engaging with informed sales staff who can act as experts and brand ambassadors, ultimately increasing stickiness and cultivating loyalty.
Two key areas to focus on:

Effective Sales People

– In one survey, 38% of respondents cited friendly and helpful store associates as the number one reason for purchasing in store. While consumers are turning to online sources for information, this does not negate the importance of knowledgeable sales assistants who have product and brand information readily available. In fact, at Mercaux, we like to think of sales assistants as beacons of knowledge, and as brand ambassadors, rather than simply sources of product information. We believe that by enabling sales people with a technology platform for instant size check, product information, training & guidelines, as well as, suggestions & looks, we equip them with all the necessary information at their fingertips to give shoppers a superior customer experience.

Bring Digital Content In-Store

– As consumers already seek out online content in-store, brands can benefit widely from developing a compelling digital offering in-store. This includes leveraging social media channels such as Instagram for influencer content, as well as, creating a seamless omnichannel experience that gives customers a consistent brand experience across channels. Mercaux partners with visual commerce platform, Olapic, to bring powerful consumer generated content in store on our tablets, and also on large self-service screens, encouraging direct customer interaction that can be analyzed and controlled.
For more information on what it means to bring digital in-store, or to learn more about how Mercaux can help bring omnichannel capabilities to your business, contact us here.