April 22, 2020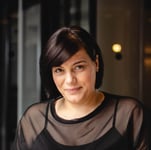 Cristina Afonso
Global Head of Customer Success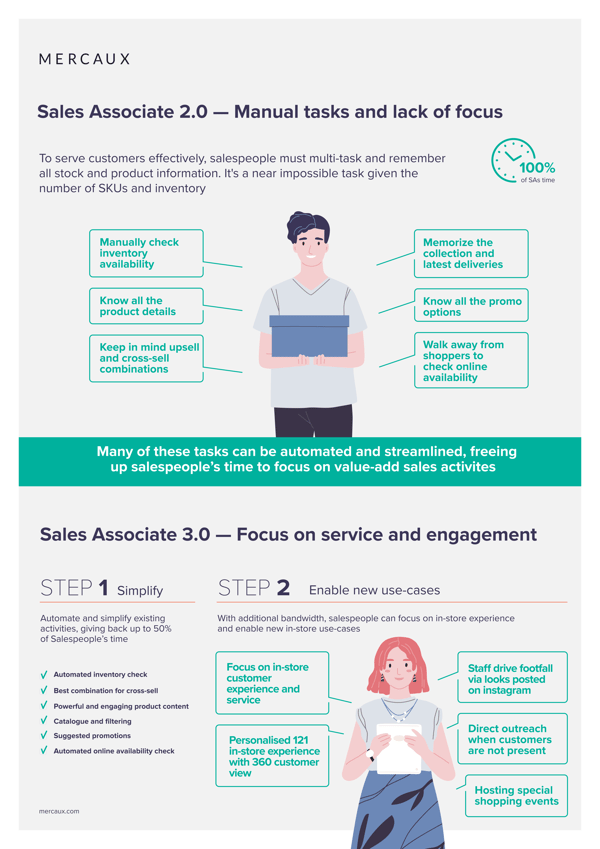 I'll start by stating the obvious: the world post-COVID-19 cannot be the same as it was before, and indeed this is also true for Retail, in a very big way. Like a deep cut, COVID-19 and its effects will heal leaving behind a scar. It is up to us to decide if it will make everything uglier or instead add a certain distinction and charm. I for one prefer to look at scars as symbols of fighting battles and winning.
We want, more than anything, for retailers to thrive so it's no surprise that when governments started implementing lockdown measures, at Mercaux, all our conversations and discussions shifted immediately and the question on everyone's mind became about how retailers would handle these closures and more importantly, what would happen to staff, inventory and store formats when stores re-open?
After all, a huge amount of retail's capital is invested in headcount, retail spaces and products. Combine that with a huge decrease in cash flow and you've got yourself a problem of no-mean-size and the way we see it, survival will depend entirely on restructuring in these three key areas. Only with very "deep spring-cleaning" of operations and costs will strong recovery be made possible. It's time to re-imagine and revolutionise retail formats and operations.
If you would prefer to hear what we have to say instead of read, you can view a 30 minute recording of the webinar accompanying this blog at the bottom of this post.
Retail Staff post-COVID-19
Perhaps the biggest changes will be seen in how retail spaces are staffed. The inevitable impact to cash flow and resourcing brought on by the closure of most retail spaces and social distancing will manifest itself in different ways for different retailers. Depending on what emergency relief packages local governments have enabled to support businesses and local employment laws, some retailers may end up being overstaffed for the potentially reduced footfall coming through the door when stores reopen, whilst others open with a smaller team, either due to a phased re-hiring process or the need to adjust headcount to a much smaller budget.
The speed and efficiency in which you convert your existing team (or brand new ones) of Sales Associates to an improved workforce, that is adaptable to new ways of working and store formats, will be a foundational pillar to how strong your potential recovery will be.
A new breed of Sales Associates has the potential to be a silver bullet solution to many of the challenges that lie ahead.
At Mercaux, we see this new employee owning a whole new set of tasks and activities that power important functions of retail, particularly when it comes to driving footfall to stores and boosting client loyalty and engagement.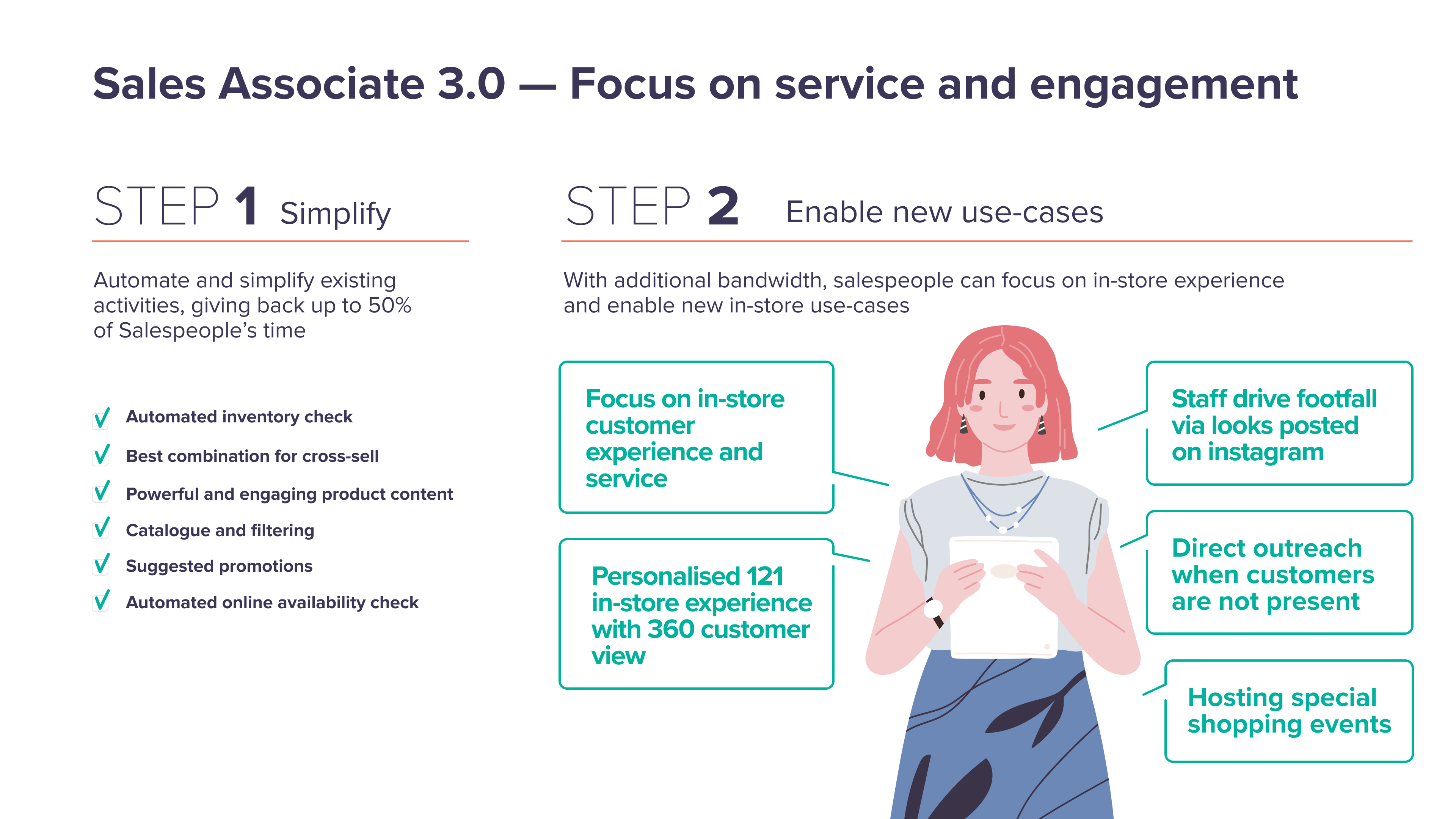 Here are some of the ways in which we see the role of Sales Associate change to solve some of the inevitable problems that post-COVID-19 retailing will bring.
1. Leverage your Sales Associate to provide unique personalised experiences (both in-store and when the customer is not present)
Client engagement can be a challenge even at the best of times. With content and offers aplenty, getting attention (and some love) from clients can be a struggle. Engagement during lockdown? Extra difficult!
But one approach has proven time and time again to be a winner - personalised content.
Clienteling tools such as ours empower Sales Associates to stay connected with customers even if they are not present in-store and create highly personalised, targeted and unique content based on a customer's preferences and shopping history.
Shoe retailer Ekonika is known for thinking on their feet and adapting quickly so it was no surprise to us when they decided to send staff home during closures with the Mercaux App in hand to enable store teams to continue working on customer engagement from home.
Using the Clienteling solution, staff send individual shopping recommendations to their loyal client base and follow-up via WhatsApp to confirm orders (for clients who have approved this contact method). This approach is already proving to deliver results when it comes to keeping shoppers excited about their products, selling-through stock from the current collection and developing CLTV.
This tactic will also deliver results when stores re-open with Sales Associates sending 121 communications to engaged customers to visit the store to drive footfall and conversion.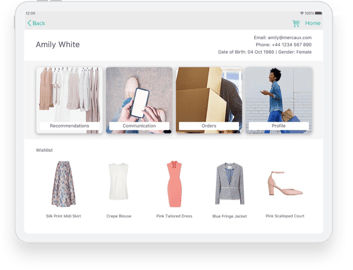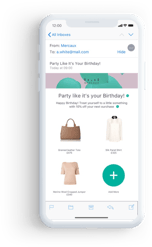 Benefits
Higher footfall & Conversion

Increase Customer Lifetime Value

"Always Open" retail format
2. Leverage your Sales Associates to drive in-store footfall and promote your brand on social media
It's widely expected that footfall to stores will be reduced when retail spaces re-open the aftermath of social distancing or limited disposable income.
Either for fear of contact and a desire to stay safely at home for as long as possible or limited purchasing power resulting from job losses and a contraction in the economy, the number of shoppers in stores is likely to be substantially lower than just a few months ago.
Much of the efforts and advertising budgets that are being poured into eCommerce (the first channel to reopen) will be redirected to getting people through the door again (and rightly so as this has historically been the biggest revenue generating channel), but there's a low-cost and yet untapped new channel and source of genuine (and practically free) content to power your campaigns - your Sales Associates.
Prior to lockdown, fashion retailer French Connection was already putting this tactic to good use by having staff use Mercaux's Digital Styling solution to create 'looks' and photograph their own staff in these looks to then be used to post in their own social media channels (such as Instagram). Replicating and expanding this tactic will bring immediate results in cutting advertising costs and drive traffic into stores to shop those looks.
Benefits
Higher footfall & Conversion

Lower advertising costs

Real, engaging User Generated Content (UGC)
3. Leverage your Sales Associates as style curators to sell Looks and help you to deal with over-stock from SS20
In addition to a reduction of footfall and spending when stores re-open, we expect another big obstacle to retail recovery in 2020: Overstock from current season is expected to spell large losses for retailers (The Retail Gazette estimates that 15bn worth of SS20 stock will be written off - read more here). With the specter of such large losses looming, retailers are seeking for ways to minimise the blow.
In the past, in an attempt to reduce losses from overstock, retailers have tackled the problem with long sales periods and heavy discounting, leading to reductions in margin. Although we understand this approach may seem the easiest to implement, in the past, it has had long-lasting detrimental effects. We believe that there are other ways in which overstock can be sold-through not only without creating a long-lasting damage, but also improving brand image.
Our suggested approach is to "hide" discounts in bundling products and instead offer complete outfits, not single products - e.g., via Mercaux's Digital Styling solution. Complex promotions such as, "buy these dress items and get matching accessories for free", or "Buy all the items in this look for $100/£80/€70", result in an increase in UPT and ATV, as well as customer LTV.
Your Sales Associates play an extremely important role in this tactic. Leveraging their skills will be key to "push" overstocked products and sell-through without needing to rely solely on discounts.
As trusted style advisors, shoppers rely on the expertise and advice of Sales Associates to guide them towards the best purchase. This can be put to good use in three ways:
Sales Associates can guide customers towards buying in bundles
Sales Associates can create bundles within the App that can be reused by colleagues across all stores
Sales Associates can encourage customers to buy products full-price, particularly "buy now, wear forever" and capsule collection items
Benefits
Higher UPT, ATV and CLTV

Reduction in customer "Discount Addition"

Better Overstock management




4. Sales Associates will still be Sales Associates
By now, you're probably wondering how your staff will have the time to carry out all these new tasks and still complete their day-to-day tasks. The fact remains that providing information to customers, fetching products in different sizes, helping in fitting rooms, understanding promotions and upselling/cross-selling are essential activities to retail that cannot be ignored (and I would never suggest that they are left behind).
But these activities can be streamlined. It is possible to make these tasks less cumbersome and free up their time to focus on activities that bring more value to the business. The secret weapon is technology.
When the topics are technology and retail, many will think it an exclusive privilege of eCommerce but Retailtech is ready and waiting on the sidelines, primed to roll-up our sleeves and help rebuild.

Here at Mercaux, we have spent years developing and perfecting an extensive set of tools and functionalities to empower store staff, fine-tune operational processes for stores, and give head office much more visibility into what is happening with their stores and stock – take a look at our solutions for more information.
We conducted a webinar to expand on the points raised in this blog post. If you have 30 minutes to spare, please take the time to view the recording here: