June 10, 2020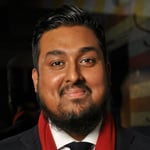 Tahmid Akthar
Content Executive
We've been talking about planning for the "next normal" for a good few months now. The changes we should be preparing for around staff, stock and stores as we welcome a new type of customer back into store - one that is full of anxiety from the lockdown period and has accelerated by five years their digital adoption (See McKinsey's article here). In Europe, we are now firmly routed in this next normal - so, what has been the reaction and early learnings we can take from stores reopening?
Both shoppers and retailers will be dealing with a new accepted standard for shopping. Stores have been told to maintain impeccable hygiene levels - with those in the UK having to fulfil a 5 step criteria set by the government. While many are thinking about how to deal with customers trying on clothes and returned items. Rather than looking at these as problems, there are stores which have decided to use this time to accelerate ahead with innovative initiatives which modernise its approach. McKinsey goes on to describe the immenseness of the change occurring within the industry:
"These most trying of circumstances have forced organizations to adapt quickly. In the process, many have achieved what they had aspired but failed to deliver for years. Decisions are made faster. Innovation cycles have dropped from months to days."
Customers will be having to get used to a new normal of shopping, as net consumer optimism decreases. Shoppers are keen to see an increased emphasis on cleanliness and safety, with many opting for reduced contact shopping options.
View from the global high street.
Going back to the high street we are going to be seeing a change in store formats and processes from brands. One of the key topics continually brought up is how retailers will be dealing with in-store returns and the fitting room conundrum. We have seen some governments announce that they will ask stores to undertake a 72-hour quarantine for clothes and items which have been returned. While brands such as Kurt Geiger and Waterstones are further implementing their own measures with the footwear brand stating they will set aside shoes which have been tried on for 24 hours while Waterstones will put books that have been browsed aside for 72 hours before going back on sale. These initiatives are designed to help ease the mind of the new safety-conscious shoppers. New hygiene measures for clothes which have been returned or tried on (once fitting rooms re-open) will actually ease a lot of shoppers minds who have long wondered who and how many people may have tried these on prior to them.
Luxury atelier Gucci is looking to tap into the Chinese market with its innovative live-streaming shopping events or remote clienteling as it is being dubbed. In a bid to recreate its luxe in-store experiences Gucci has set up a video service which allows customers to view the brand's offerings - while the store associates will be operating out of the brands Gucci 9 client services hub with the Florence location spanning 2,300 sq metres. "The mission of our Gucci 9 global service centre is to provide our customers around the world with a direct connection to the Gucci community that is a seamless, always accessible, personalised experience," explained Marco Bizzarri, Gucci president and CEO. The service has gained considerable traction in the east and the Italian brand is now looking to roll out the service across the entire EMEA region.
In the UK, Harrods has decided to break from tradition and move to open a new stand-alone location within Westfield Shepherds Bush. The decorated luxury department store has shown that no one is safe from the overstock issue caused by the COVID-19 induced lockdown. The brand famous for its one-store, one-sale approach is opening a two-floor outlet store in a bid to shift items from beauty, fashion, accessories as well as other departments. The store wants to ease pressure from its Knightsbridge location to allow savvy shoppers a safe space to pick up some bargains whilst maintaining social distancing.
New Service Models
A key remit of businesses as they look to re-open around the world is to roll out new service models. This is in line with the growing hygiene measures demanded by government bodies and more importantly sought by shoppers who will look to tentatively find their way back to the high street. There are a whole host of innovations which will and can be implemented by retail stores to help coax in shoppers whilst allaying fears and closing sales - these range from self-service screens, remote selling, queue scenarios and appointment bookings.
Self Serve Options
Self-service touch screens installed in-store and B2C Web Apps commonly seen in grocery (watch this space from the Mercaux Team for new solutions) can provide an option to those who want the in-store experience but are keen to not interact with sale staff. These devices provide shoppers with the ability to browse, check availability, create baskets and finally checkout all in one move. For retailers, these screens will be useful in helping to promote bundle offers to help shift the overstock as well as ease pressure off sales staff especially when understaffing remains a core issue.
And of course, the interactions with these devices provide a rich source of data that gives HQ Teams an insight into how stores are performing in their recovery efforts.


Self-serve touch screen device from Mercaux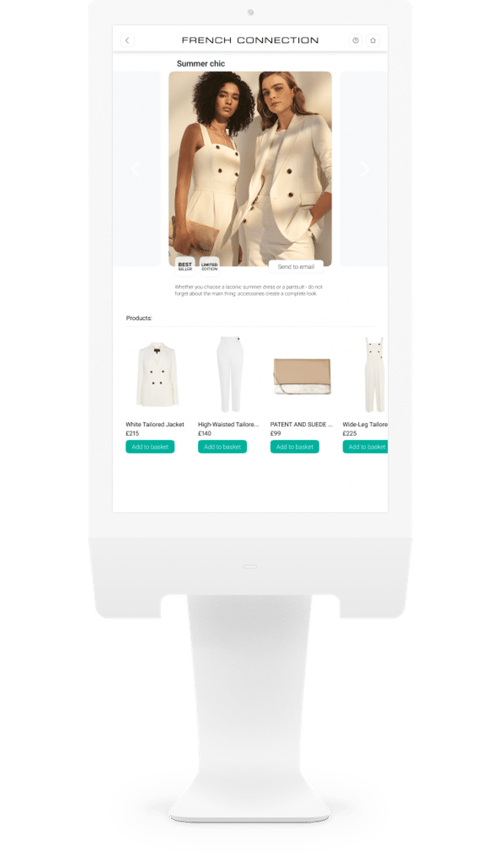 Appointment Booking
We're also going to see the beginnings of a more personalised shopping experience. Brands are looking to alleviate the pressure of social distancing shopping by allowing shoppers to pre-book one-to-one shopping appointments. Companies are tapping into virtual booking systems to help manage the flow of customers, with some brands already implementing it online and in non-essential retail stores which have led to a basket value increase of 300% for some brands through increased customer engagement and an improved shopping experience. Appointment booking also allows staff to add booking notes as well as begin to build a customer profile (it's also a key way to access the black box of consumer data for brick and mortar stores!)
Queue Scenarios
With social distancing and the 2-metre-rule not going anywhere anytime soon, brands will have to deal with people snaking in and out of their store. And on the flip side, consumers will have to deal with increasingly long wait times to get in. To help combat the issue retailers can utilise tech-enabled staff to help serve shoppers whilst inline, helping them to create baskets which then can be fulfilled in-store. Another method could see brands providing shoppers with specific time slots to come back and enter the store while they roam around. British luxury department store Selfridges - has moved to announce a 'joyful reopening' which will see the brand provide experiences and entertainment for eager shoppers who are maintaining their distance whilst waiting to get in.
Remote Selling
A simple fact of the matter is that whilst you will have shoppers who are keen to dip their toe back into the high street, some shoppers will still keep away. This shouldn't dishearten brands and retailers, because if there's one thing COVID has brought on is innovation within the industry. Remote selling could soon become the norm if your brand has the correct set-up. It can help your shop-floor associates to communicate with customers and help to generate bespoke recommendations which are based on their previous purchases. It also allows for a personalised shopping experience, making the consumer feel more welcome within the brand. Remote selling will also be beneficial for e-commerce sales with the consumer reacting positively to the one-to-one bespoke service they receive.
This is an area that we believe will become more and more valuable to retailers in the coming weeks and months and so you can expect some exciting new development from our top tech team in this area soon.
Personalised email to from store staff to customers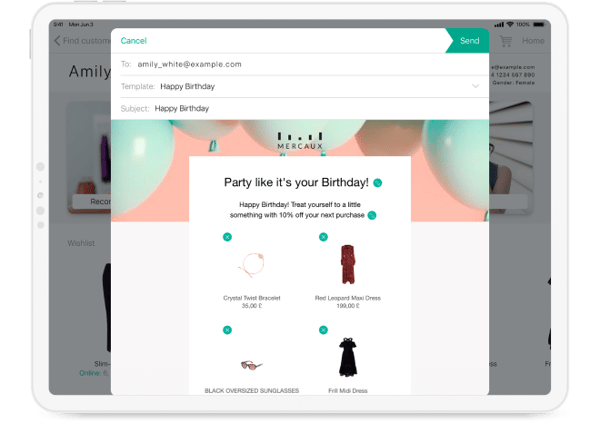 Overall its an exciting time again for retail. And considering the way of the world for the last few months, it feels like a relief to say that. The journey here on in will not be easy but it is a new world for retailers to embark on. Its a time for brands to innovate and improve on services to help them become market leaders.
If you want to hear more about our learnings from stores re-opening please watch our webinar below hosted by our CMO David Miller and Global Head of Customer Success Cristina Afonso.