May 12, 2021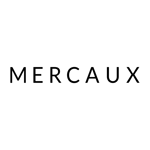 Mercaux
One of Europe's leading omnichannel retailers in the fashion sector, Tendam (formerly known as The Cortefiel Group), has today announced the deployment of Mercaux's in-store digital transformation technology to two further brands. Convinced by the success of Mercaux's Connected Store Solutions in their Springfield brand, Tendam is now looking to scale the benefits by deploying the same solutions into two more brands, Pedro del Hierro, and the company's flagship brand, Cortefiel.
Mercaux's in-store technology will enable the new brands to deliver a personalised service and consistent omnichannel experience to customers visiting their stores.
Operated by Sales Associates using a tablet-based app and managed by a HQ Management and Analytics Platform, the brands will deploy Mercaux's Sales Assist & Omnichannel, Storytelling and Styling solutions

in-store.

Download a full case study by visiting our

TENDAM Customer Page

.
Cortefiel's Landing Page in the Mercaux App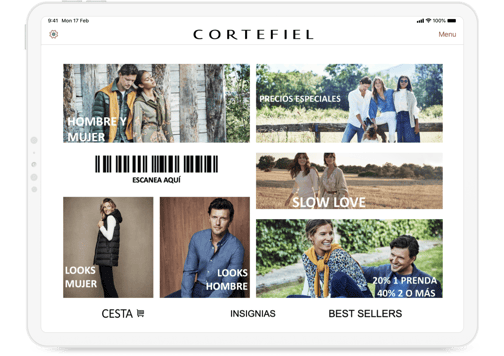 The Springfield project, launched in April 2019 across several European markets, has seen Mercaux improve business critical metrics, such as units per transaction (UPT), customer conversion, and the number of e-commerce orders placed from store.
Speaking of the project, Pedro Esquivias, Chief Customer Officer at Tendam, commented, "We initially launched with Mercaux across our Springfield stores, and alongside an expansion of this project, we are now deploying the same technology in our Cortefiel brand. We approached Mercaux with very specific objectives, wanting to enhance the commercial capabilities of our store personnel and equip them with cutting edge technology to better serve our customer base. We are very impressed with Mercaux's performance in our Springfield brand to date, as they exceeded the initial KPIs set for the campaign and have helped drive sales even amid COVID-19 restrictions."
Esquivias added that, "Following the Springfield project, we look forward to even better results with Cortefiel and the prospect of expanding our partnership with Mercaux further in the future".
Cortefiel's Product Catalogue View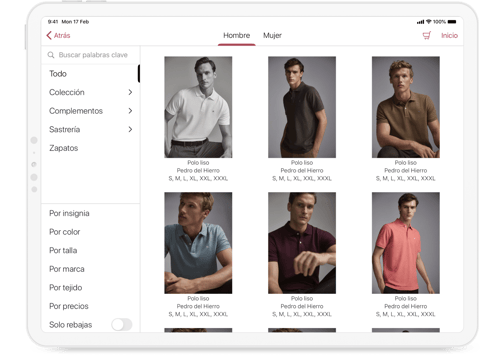 Olga Kotsur, Co-Founder and CEO of Mercaux, commented, "The last few months have demonstrated more than ever the need for retailers to be flexible and forward-looking. Over this time, it's been a pleasure to work with Tendam, a true pioneer in the retail world, who have used the pandemic as an opportunity to accelerate innovation and future-proof their offering. By expanding their digital transformation partnership with us from Springfield to their Cortefiel brand, Tendam have been able to align their short-term COVID-19 recovery plan with their long-term strategic digital transformation roadmap."
Kotsur concluded that, "We are delighted that Tendam has now chosen Mercaux as its digital partner once again, and we look forward to extending work across their portfolio in the future."
With real-time access to product availability, sales staff will use Mercaux's Sales Assist & Omnichannel solution (accessed by the Mercaux App) to call upon the endless aisle of products to best advise customers. If a product is not available in a store, the Sales Associate can use the Mercaux App to recommend an alternative from the in-store collection, process the order through another store or complete an online transaction. By giving Sales Associates instant access to product availability across all online and offline channels, Mercaux's technology empowers sales staff to satisfy customer's specific product requests, personalise the experience and ultimately improve customer conversion.
The group have deployed Mercaux's add-on Styling & Bundling solution, which allows Sales Associates to present customers with personalised outfits and product bundles to "complete the look".
Product Descriptions, Availability and Alternatives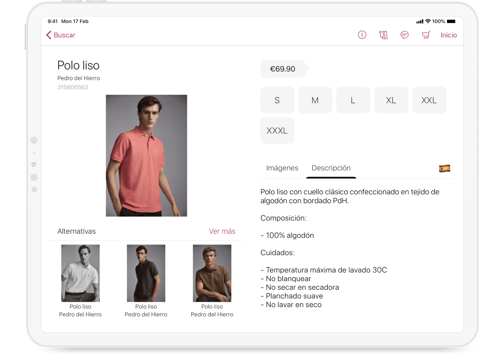 Find out more about the Mercaux and Tendam partnership - and how the project led to an increase in in-store sales - by accessing the full case study:
Alternatively, if you have any questions about your own in-store digital transformation journey, please do not hesitate to get in touch.