August 1, 2019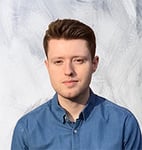 Jake Marshall
Digital Content and Marketing, Mercaux
With the continuously changing landscape in the retail industry, it's inevitable that retailers need to adapt at a similar pace to keep up. However, we understand that change is often a long, multi-stage process before organisation-wide buy-in is achieved for innovative new ideas.

On several occasions, we've been approached by retailers that are seeking a solution to help them leverage digital in-store, yet they are mid-way through a complex retail transformation project. For example, modernising their CRM system or changing their POS system. This can leave them with a medley of systems and data sources, as well as severe time constraints. As is typical with transformation projects, there is often concern about the complexity of starting a new project before finishing those still in progress.

From Mercaux's very inception, we have developed our product with this exact scenario in mind. We are able to work with our clients to digitalise their in-store offering at any time and stage of their store of the future transformation, for a number of reasons:
Our Architecture is Flexible
The Mercaux platform architecture has been built with the flexibility that modern retailers need in mind. The fact that you have a large and diverse technology stack, or are migrating between different systems, doesn't have to be a roadblock to innovation. We can extract data in a whole host of different formats, from APIs to bespoke data feeds, and through multiple transfer protocols, from one system one day to another the next. We can easily integrate with the technologies you have today, but equally, easily connect to the technologies that you phase into your company in the future.
"The speed and ease at which we have been able to implement Mercaux has been remarkable"
Simon Donoghue, MD Retail & E-commerce, French Connection
We Require Minimal Integration to Get Started
In order for you to get started with Mercaux, our Digital Styling, Sales Assist, and Omnichannel solutions require only a light touch integration with a minimal amount of systems, namely e-com and inventory management, taking just 2-3 weeks. Heavier integrations aren't necessary for you to start realising the sales uplift benefits of a transformed customer experience.

We require no integration with POS to bring an endless aisle of products into the hands of the customer in-store, to check stock availability across other stores, or to transfer baskets between the store and e-commerce.

While CRM is great tool for delivering a bespoke customer experience, we also require no CRM integrations to empower sales associates to curate a personalised experience. They can create looks and suggest recommendations and alternatives, bringing uplifts in sales, units per transaction (UPT) and AOV right from the outset. With the customer interview scenario, sales associates can refine the catalogue even further and build personalised suggestions based on hair colour, eye colour and body-type, without needing to recall or store any customer information.
"I was amazed how seamless, quick and convenient the integration process with Mercaux was. We went live with the app within a few weeks from the start of the project"
Pratibha Kini, IT & Business Development Director, Karen Millen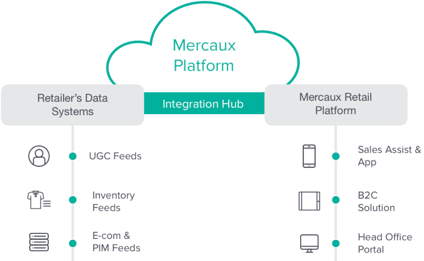 The Mercaux Platform is Modular
Our product is modular, meaning that you can take a phased approach to integrating new solutions at different times as you advance. Typically, our clients begin with our Digital Styling and Sales Assist modules first and add other modules at a later date when they have the technology infrastructure to support these, such as a OMS or CRM system. As an example, once you've introduced a new CRM system, we obtain the relevant API feeds and simply switch on your Clienteling module. Owing to our extensive ecosystem of partners, our customers are able to explore a variety of new possibilities for their store of the future when they are ready to do so, from hardware and payments through to artificial intelligence.

Please contact us if you would like to discuss how we can work with you at any stage of your digital transformation journey. Our flexible, modular platform brings tangible benefits, while revolutionising the customer experience in-store.