This peak season will undoubtedly be unlike any other as shoppers marred with national lockdowns in 2020 bounce back to our high streets to make up for lost time - but does this mean that retailers need to approach the season differently? The simple answer is yes, but as we enter peak, what can retailers still do at this late stage to prepare their stores for the increase in traffic?
We outline a few ideas how to address these changes that can be deployed quickly in time to welcome the crowds:
1. Provide Customers in busy stores with a Digital Shopping Assistant
The impact of the pandemic is still raw to a lot of shoppers, with some still entering stores with a sense of trepidation. Any way that you can provide a safe shopping environment will be well received and may even attract shoppers to your store over that of the competition.
The uncertainty of employment during the pandemic, mixed with the summer's "pingdemic" in the UK, left some retailers with a skeleton workforce to service a bumper peak season crowd. We are all in hope that the situation continues to improve, but retailers need to think now about alternative ways to service the customer through digital means. In fact, many consumer & retail CEOs are already putting plans in place - according to research conducted by KPMG earlier this year:
77% of retail executives reported they plan to invest more in customer-centric technologies
Self-service apps are a great way to provide customers with the information they would normally expect to receive from store associates, on their own devices. The problem here is that space on a customer's phone for Apps is at a premium. When they have entered your busy store and then need to download an App to access the information they need (whilst other shoppers are pressuring them to move out the way) it can be inconvenient at best and incredibly annoying at worst. Instead, provide them with access to a web app that they can access by simply scanning a QR Code (an action that is second nature to everyone now thanks to the hospitality industry using them heavily for accessing menus and ordering during the pandemic).
Providing them with such a tool will help them to navigate their way around the store, pull up product descriptions, availability of inventory, access styling advice and build baskets ready to send to a store associate to complete the transaction. Think of it as giving them their own digital shopping assistant by their side at every stage of their path-to-purchase.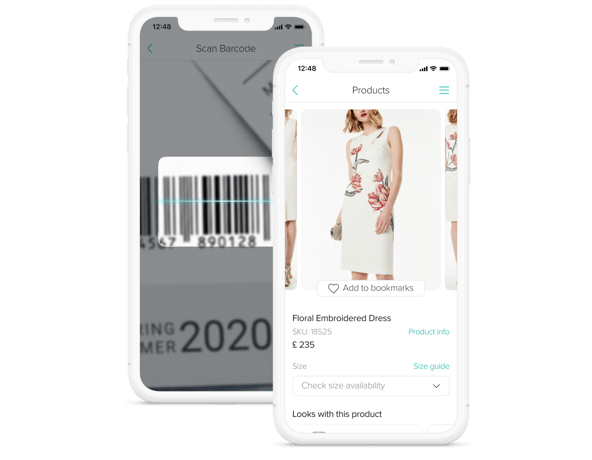 Mercaux's QR Consumer Web App
2. Quickly offer alternatives to save lost sales
With the increased footfall comes added pressure on inventory in-store. Instead of notifying a customer that a product is simply not available, offer to purchase the item via the online store to be shipped to their home or BOPIS, or offer alternative products that are available for them to take away with them immediately. Providing your sales associates with Assisted Selling tools gives them access to company-wide inventory for a specific product, or the ability to offer alternatives. This will of course lead to fewer lost sales and happier customers.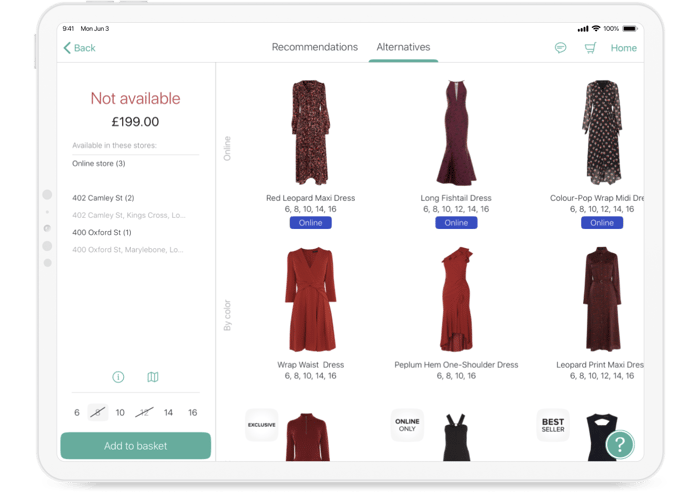 Alternative suggestions for omnichannel availability in-store and online
3. Flexibility in Fulfilment
Long gone are the days when shoppers are expected to physically train for peak season, so they are able to carry bags full of merchandise from store-to-store. E-commerce led the way with Next/Same Day Delivery, BOPIS, Buy Online Pickup Local, etc. Therefore, the store should equally provide this service too and it seems for some retailers, the store is already playing a fundamental role in fulfilment.
Gartner's inquiry data indicates that for several Tier 1 retailers, more than half of online orders are now handled by a store, either through click and collect or store fulfilment. However, according to the report, only 18% of organisations report fulfilment accuracy rates of 95% or better, suggesting that retailers should make this a priority.
For those shoppers who wish to "shop til they drop", taking a full day out to visit as many stores as possible, give them flexible fulfilment options and make it a more enjoyable shopping experience for them, by offering a Buy In-Store, Ship to Door service. Provide your store associates with an easy way to access your order management system (OMS) with the help of assisted selling tools (as mentioned above) to offer customers to build an in-store basket, complete the transaction by the store associates side (without the need to join a queue at the till) by using Mobile Payments and arranging for the order to be shipped to them at home.
4. Eliminate long queues at the tills
This was mentioned above, but it certainly warrants its own section in this blog post - the sight of a long queue will encourage even the most hardy of shoppers to abandon their basket and go elsewhere. According to research commissioned by Facebook;
More than a third (37%) of in-store consumers globally say a fast or express checkout would significantly improve their shopping experience.
Arm your store associates with the ability to take payments through their assisted selling devices - Mobile Payments (or mPOS) allows your staff to scan and transact by the customer's side, anywhere in-store.
And if you are in a fortunate position to have a queue snaking outside of your store, use your store associates to sell outside by using their assisted selling devices to browse, give styling advice and even build baskets before they've entered the store. Mercaux's own queue scenario solution even has the ability to transfer the basket to an in-store colleague to pack the items and have them ready to complete the transaction when the customer enters the store. See how Holland & Barrett used it to surprise and delight their queuing shoppers.
A little digital transformation can go a long way - we wish you the very best of luck this peak season!