February 17, 2021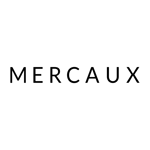 Mercaux
Stadium Goods, the premier sneaker and streetwear marketplace retailer, has launched a new digital transformation project with Mercaux. Stadium Goods – who was acquired by Farfetch in 2019 – chose Mercaux as their in-store digitalisation partner back in November 2019 to help them provide a consistent and seamless omnichannel shopping experience, across all online and offline channels. Just over a year later, they have now launched a new project in their new Chicago Store, with Mercaux's Mobile Payments (mPOS) solution alongside the existing solutions already being used in their inaugural New York Store.
The Mercaux platform provides Stadium Goods with digital support across every touch point in store, from product discovery to live pricing details, and from floor runner capabilities all the way through to mobile checkout – meaning that Staff can assist customers in their entire path-to-purchase, without having to leave their side.
The Mercaux App in action at Stadium Goods (New York)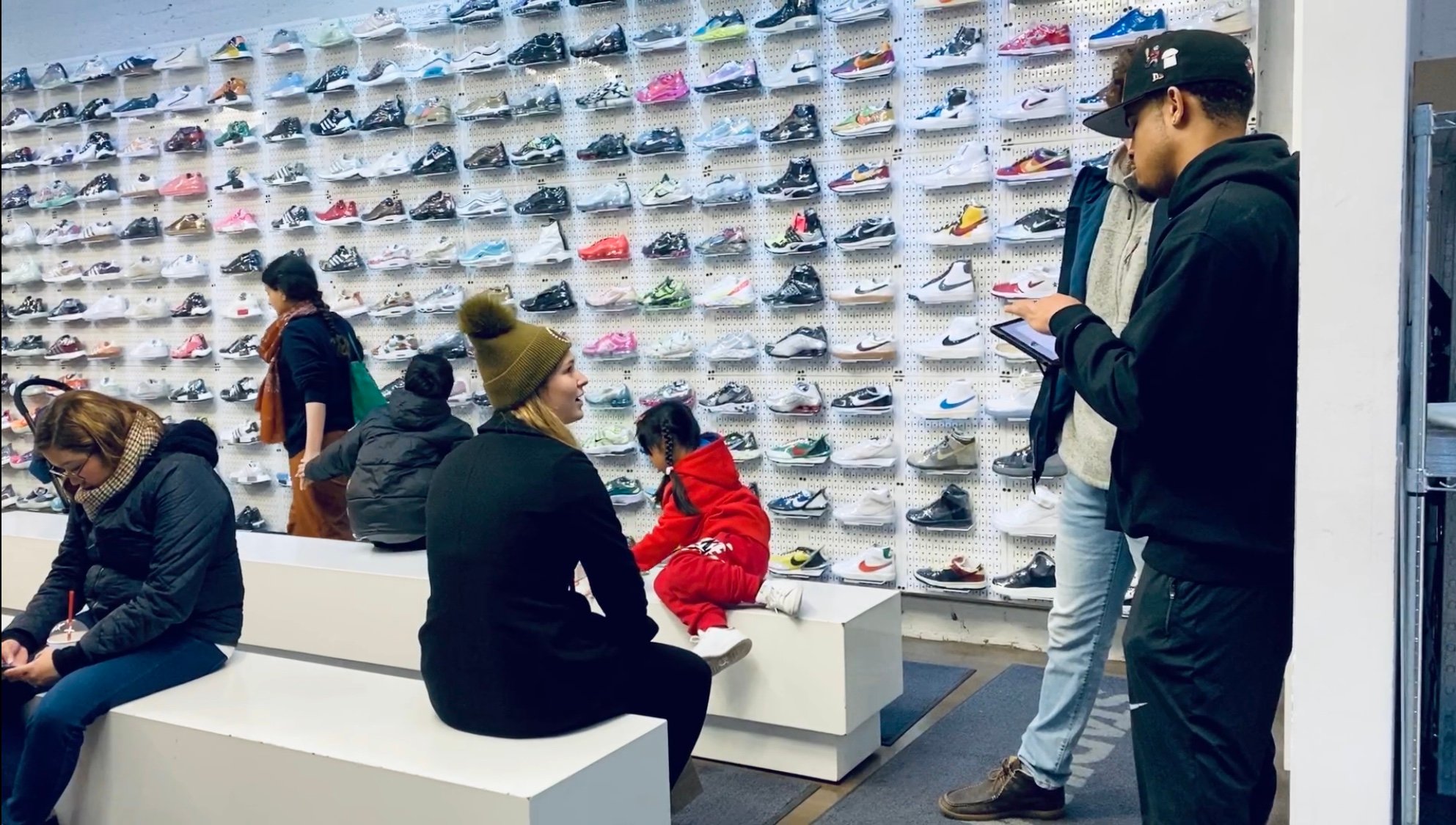 Speaking of the news, Phung Truong, VP of Retail & Geographic Expansion, Stadium Goods, commented:
"We're a company with a robust ecommerce operation, so digital is in our DNA. Our priority was to bridge the gap between online and offline retail, and give our Stadium Goods customer a seamless, OMNI channel, shopping experience. We decided to partner with Mercaux because they presented a tailored digital platform that catered to our unique business model."
"We've been pleased with the speed of deployment and how intuitive it is for new staff to simply pick up and use. Mercaux has given us the digital tools to improve conversion and efficiently service customers."
Stadium Goods have so far deployed three of Mercaux's in-store digital solutions. Here are the reasons why: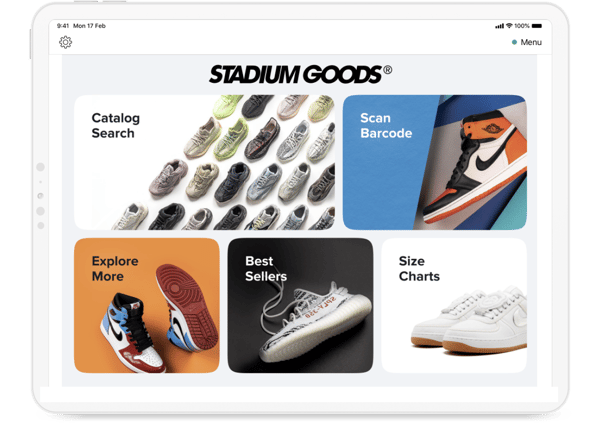 Stadium Goods' Landing Page in the Mercaux App
All of the solutions are operated by Store Associates using a tablet-based App and managed by a web-based HQ Content Management and Analytics Portal. Here's each solution in a bit more detail:
Sales Assist and Omnichannel - Reduced lost sales and improved conversion
The App displays the endless aisle of sneakers available for customers to browse. As each pair of sneakers is individually priced, the App displays live pricing of the lowest price pair available, accompanied by inspirational pictures, descriptions, alternatives and styling recommendations to increase the likelihood of purchase.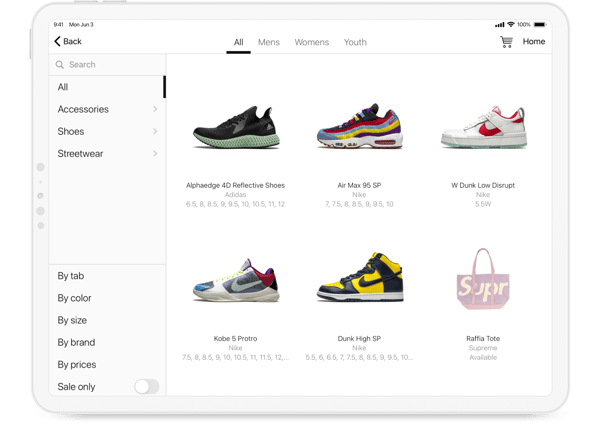 Stadium Goods' Product Catalogue
Besides being able to purchase sneakers in-store, customers now access Stadium Goods' company-wide inventory across all channels. This means that, if a particular pair of sneakers is unavailable in one store, the customer can buy the available shoes in another store or complete an online transaction right through the Mercaux App and have them delivered to their homes.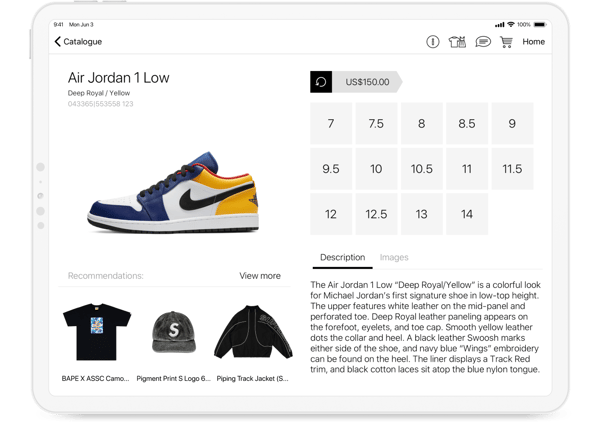 Product Descriptions
Floor Runner - Improved travel time from stockroom to shop floor
When a pair of sneakers is chosen in the Mercaux App, the Runner Solution sends a message to the stock room for the pair of sneakers to be brought to the shop floor, all without the Sales Associate having to leave the the customer's side to collect them.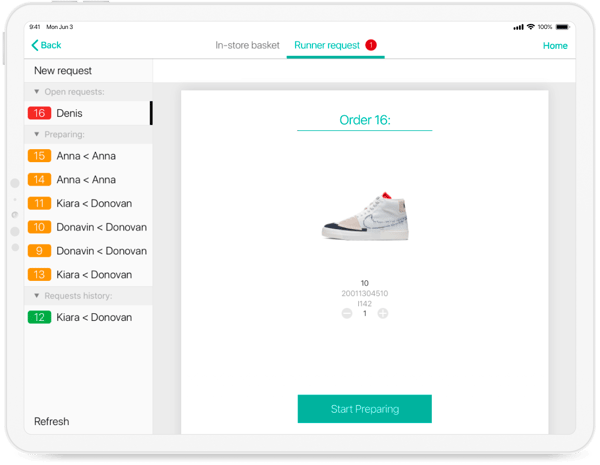 Floor Runner Functionality
Mobile POS (mPOS) - Contributing towards superior customer experiences by the customer not having to join a line at the cash register, further contributing to in-store conversion.
With the launch of their new location in Chicago, Stadium Goods added mPOS to their suite of solutions – making Mercaux their preferred way of processing payments in-store. The integration with Stadium Goods' Magento order management system and Adyen Cloud API allows Stadium Goods to deliver a smoother customer experience, eliminating the need for them to join a line at the cash register.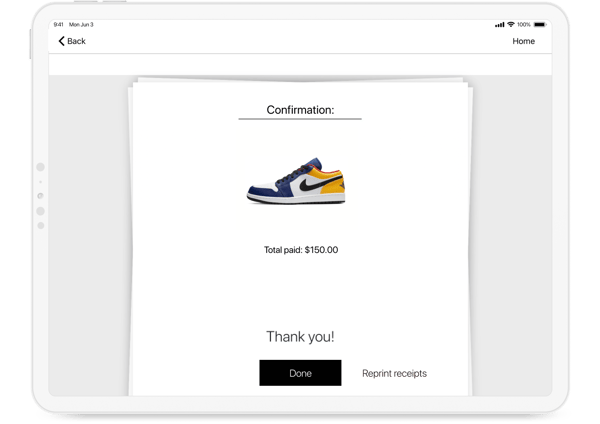 Mobile POS Functionality
If you would like to discuss your digital transformation plans with us, please complete the below form and a member of the team will get back to you.