February 19, 2021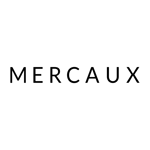 Mercaux
With most retail stores closed for shoppers, we ask how retailers can continue using their stores to delight their customers. Instead of fully shutting down stores until lockdown measures are lifted, retailers should still be looking to leverage their stores - and in-store teams - to support the business. More and more retailers are deploying their in-store teams for remote selling, converting their stores into recommerce centres, or leveraging their stores as fulfilment points for services such as BOPIS, Click & Collect, Curbside Pick-up or return-to-store.
For more ideas on how to continue deriving value from your locked-down stores, read on for our top 4 tips.
1. Turn Stores into Fulfilment Centres
One of the most straightforward ways for retailers to continue delighting customers from stores is to convert closed stores into fulfilment centres. In-store fulfilment options have soared over the past year, and for good reason too. There are big opportunities to be had if retailers can successfully convert their stores into fulfilment centres, especially locked-down stores: shops contain valuable inventory which can be leveraged to fulfil online orders and facilitate same-day delivery services to really delight your customers.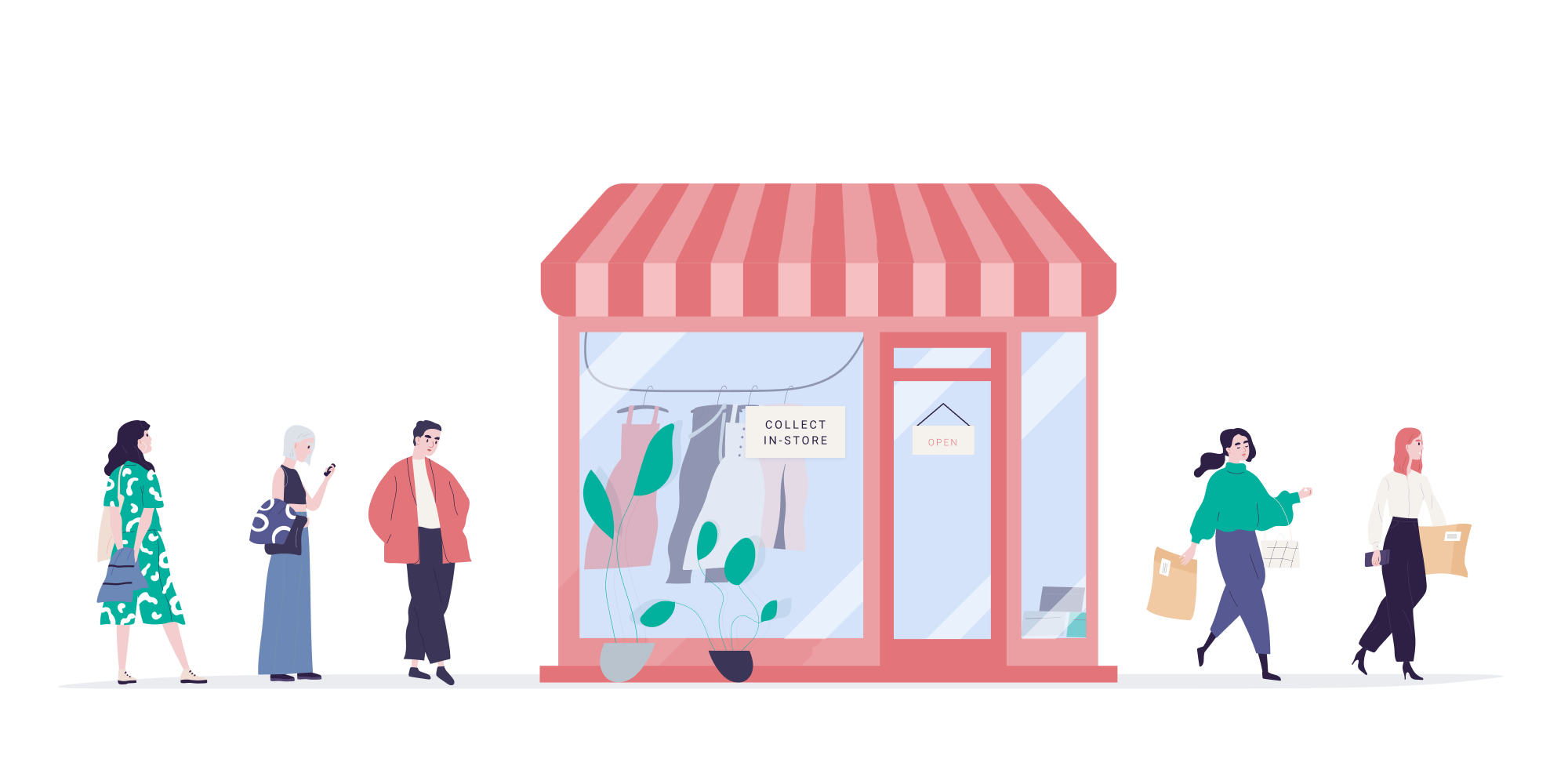 Flexible fulfilment options such as Buy Online Pickup In-store (BOPIS), Ship-from-Store, Click & Collect, Curbside Pickup and Return-to-Store are a must-have for retailers wanting to satisfy consumer calls for safe, easy, and frictionless order fulfilment. BOPIS services allow retailers to make the most of their stores by leveraging locked-down stock to facilitate same-day delivery. Turning your stores into fulfilment points also allows you to satisfy growing demand for sustainable supply chains - with stores as local fulfilment hubs, you can uncover the most economical route to the customer based on their location. Here's what one of Mercaux's own customers had to say when they used our platform to fulfil orders from locked-down stores:
"For our Store Teams, using Mercaux has become such a part of their daily routine

that throughout the periods of lockdown, the app has been used to help fulfil online orders.

Having access to the images for each product and stock availability in a single source has really helped accelerate the location and packing of the items within each order.
Chris Blench, Area Sales & Operations Manager, Scotts Menswear
Find out more about turning your stores into fulfilment centres by reading our blog post all about it.
2. Re-deploy In-Store Teams for Remote Selling
Another way to continue deriving value from your stores is to launch remote selling capabilities, deploying your in-store teams to communicate with customers remotely via channels such as SMS, WhatsApp, or video. Whether your stores are running restricted hours or fully locked-down, remote selling allows retailers to continue using stores to connect with stay-at-home customers, giving shoppers access to the perks of in-store shopping from the comfort of their homes.
When remote selling is used to its full potential, retailers can drive sales by delivering a personalised shopping experience from store, keeping home-based consumers engaged by giving them 121 access to the specialist styling advice of Store Associates.
With ongoing COVID-19 disruption, there is little doubt that remote selling represents a valuable opportunity for retailers wanting to maintain existing customer relationships and to cultivate new ones. So, where should you begin? There is no one-size-fits-all approach to remote selling, but to maximise conversion rates across the board it's crucial for retailers to offer a variety of different remote communication options, including WhatsApp, SMS, video consultations and targeted email marketing.
If you have any questions about remote engagement, and how to get started, please view our product sheet and feel free to get in touch.
3. Digital Signage & Window Shopping
Instead of leaving shops boarded-up, as if a relic to a pre-COVID past, why not make a feature of your shop windows by experimenting with scannable QR codes, video displays and screens with real-time data. With these features in place, you can find new and innovative ways to surprise customers passing by your stores.
Now is the time for retailers to get creative, experimenting with store-side features to keep customers engaged, for example enticing passing customers to scan a QR code to trigger rewards such as free delivery tokens. Alternatively, retailers could experiment with digital signage, projecting videos of their new product collections or displaying real-time statistics to encourage customers to engage remotely from home - "32 customers attended a video appointment today, book your consultation today!".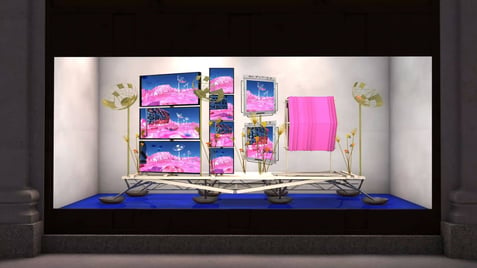 SOURCE: https://www.selfridges.com/
By leveraging shop windows, you can transform shopping into as much an outdoor activity as an indoor one. A recent stand out example comes from UK department store, Selfridges, who have launched a new "Window to the Future" initiative which blends digital and physical retail by hosting 3D, digitally rendered clothing in the window. The window displays allow passers-by to see how the clothes look and feel when displayed on an animated body, rather than a still mannequin - and if they like what they see, passers-by can shop directly from the window by simply scanning a QR code.
These features will continue to delight customers once stores re-open too - click here for an example of how QR codes can be used to facilitate socially-distanced shopping by giving customers the digital tools to serve themselves.
4. Outline a Sustainability Roadmap
Alternatively, with most of the retail industry still in lockdown, why not use this time to double-down on your values and outline a sustainability roadmap. 2020 saw a continued focus on sustainable business practices, as retailers face ongoing pressure from consumers and stakeholders to take action. Last month, at NRF Big Show 2021, it was agreed that retailers will soon need to demonstrate how they plan to become fully circular, integrating end-of-life services into their product planning (see my NRF highlights coverage here).
As consumer demand for ethical and sustainable business practices grows ever higher, we are seeing more and more retailers experiment with new initiatives. In September, H&M launched a re-sell platform for its COS brand, allowing customers to buy pre-loved items in a bid to promote product longevity and brand loyalty. Sweaty Betty are also leveraging their stores as drop-off recycling centres, encouraging consumers to exchange old leggings for 10% off: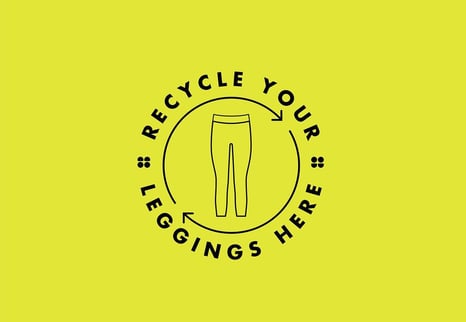 SOURCE: https://www.sweatybetty.com/
We are seeing similar re-commerce initiatives outside of fashion retail too, as IKEA recently launched a "buy back" scheme, turning stores into recycling centres where customers can drop off old furniture in exchange for vouchers worth up to 50% of the original price. These in-store buy-back schemes not only demonstrate a commitment to sustainable practices, but also help to cultivate customer loyalty and lifetime value (LTV). McKinsey announced in their 2021 State of Fashion report that two-thirds of UK and German consumers consider a brand's sustainability an important buying factor.
As an extra incentive, it's worth noting that sustainability schemes go hand in hand with customer loyalty schemes. Turning part of your store into a buy-back or re-commerce centre gives you the option to exchange old products for discount codes, delivery tokens and personalised offers, therefore encouraging consumers to keep shopping with your brand.
There are several options out there for your locked-down stores, where that's for fulfilment, remote selling, or re-commerce. The thing to remember is that, even though stores may be closed now, they are still a valuable asset for delighting customers in the short-term and for enticing shoppers to return in the long-term.
If you're interested in finding out more about how you can leverage your stores and in-store teams throughout lockdown, please take a look at our connected store guide: