Leading retailers from across the UK took some time out of of their busy schedules to attend the official pre-Launch dinner for "The Pulse of Retail 2023 - Next Generation Retail", at the Ham Yard Hotel in London's West End. The evening was held under strict Chatham House Rules, so we won't be sharing you the thoughts of individual retailers, but to whet your appetite I've provided a small taster of what to expect from the report, and the general sentiment from those around the table.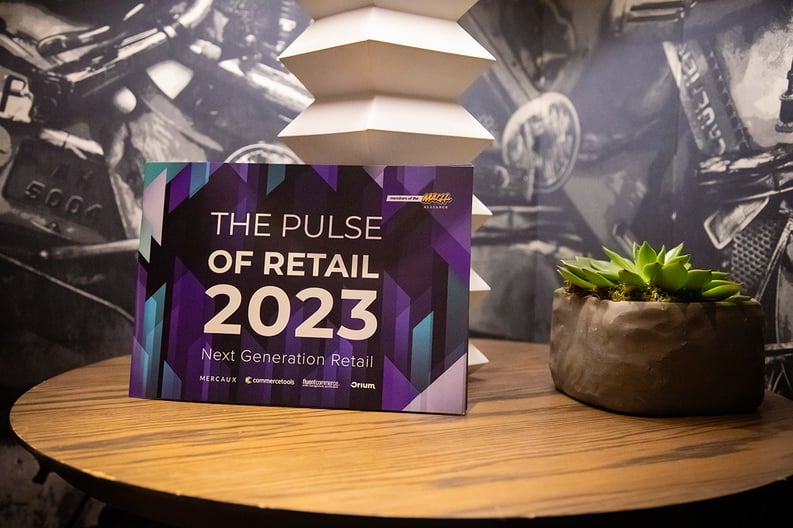 What is the Pulse of Retail 2023?
Mercaux's annual report where we take the pulse of digital transformation in the retail industry. This year we surveyed more than 500 retail executives across the UK, USA, France, Spain, Italy, Nordics and BeNeLux. We are also delighted to warmly welcome our fellow MACH Alliance members, Fluent Commerce, commercetools and Orium who have jointly commissioned this year's research with us.
The report will officially be launched at NRF's Big Show in New York in January, but with the report hot off the press, we decided to host a pre-launch dinner with our partners Scandit, where we welcomed executives from JD Sports Fashion, Harvey Nichols, Estée Lauder, Ralph Lauren, Ann Summers, Clarks, Decathlon and Office Shoes to discuss the findings of the report for the first time.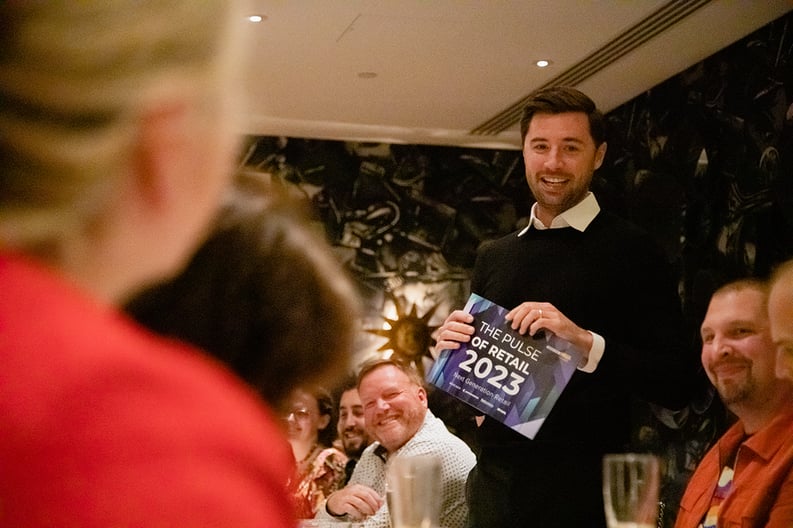 Retailers plan to invest their way through the impending recession
But, where and how they plan to invest this investment has mixed reactions (specifics are revealed in the report). Where some retailers are focused on distribution and how they can quickly get their products into the hands of customers, it was a real mixture of those retailers round the table for where focus will be. Some still see work to be done in their inline tech stack, whilst others are mid-way through transforming their stores.
One specific area of concern coming from a few retailers around the table was staffing and how they could, firstly, find the right staff, but secondly, retain them. Investments in in-store technology to make their lives easier and deliver a better in-store customer experience were some strategies being deployed.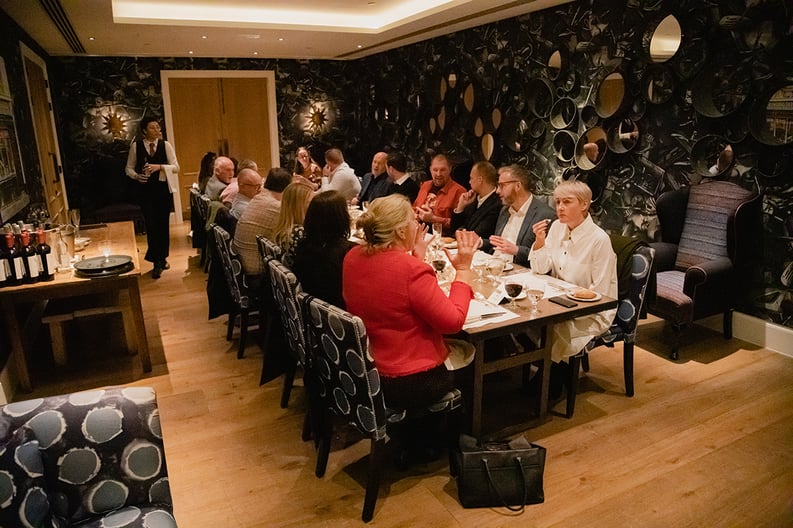 Returns
One hot topic coming from the table was the subject of returns, and the challenge to get this right amongst the push for sophisticated distributed OMS. Our own research placed these systems high in the priorities of retailers in 2023. The report reveals where retailers are in this journey from intending to deploying (but not yet a priority), to planning, implementing through to deploying already. So if you wish to benchmark your own progress against those of the wider industry, the Pulse of Retail is your report to reveal all.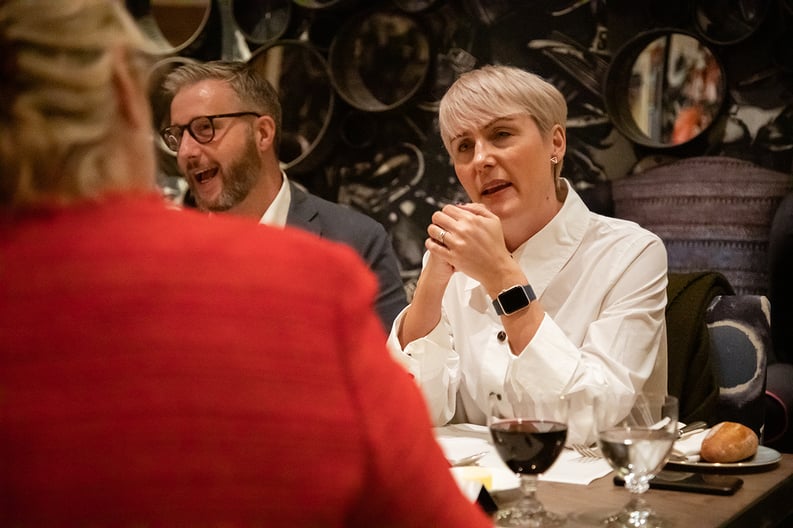 Agility to transform and approach to composability
Probably the most talked about subject around the dinner table was the speed (or there lack of) for which retailers are able to transform in line with customer expectations. There were some fascinating accounts of some technical leads around the table having to carefully unweave the work of in-house teams in the past to continually add functionalities to bespoke systems. The challenge was poignantly shared with one guest who had more than 350 apps deployed in their tech stack with each adding a little more functionality to the never-ending requests from the business. The challenge they have is bringing consolidation and agility - they've decided to work exclusively with members of the MACH Alliance to achieve this.
The Pulse of Retail includes a section dedicated to the appetites of retailers to decompose their architecture and where they are on their journey to composability. It's safe to say that this is going to be a high area of focus from retailers across verticals and geographies into 2023: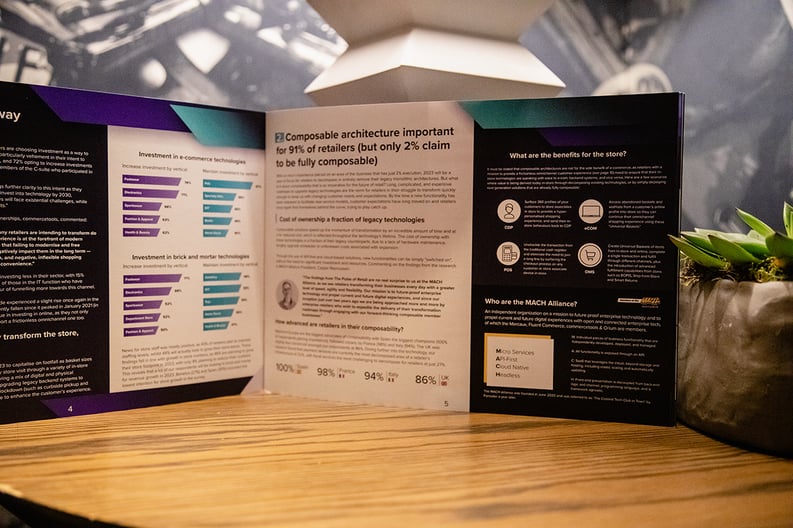 Customer Experience
The guests were unanimous in their desire to fully understand the needs of their customers and deploy solutions that support (or exceed) these needs. How they go about collecting these insights was another area of debate amongst the guests, but ultimately, they agreed that these need to be identified and thereafter find solutions in the market to support these. Retailers have long passed the deployment of technology for technology's sake, and are in a lot of cases reverse engineering this mentality out of their businesses.
A discussion around the transition from Legacy to Next Generation POS rounded off the evening, of which there is yet another dedicated section in the Pulse of Retail for you to understand the progress in this important area for the store.
If you are attending NRF, you can pick up a physical copy of the report on any of the participating partner stands. For those opted in to Mercaux database, you'll have an opportunity to get a sneak peek of a digital copy before the event kicks off.
I look forward to seeing you at NRF - please reach out to me on LinkedIn if you plan to be there. We have numerous opportunities to discuss these findings at the Mercaux booth or various social events around the show (including our official USA Launch Dinner).