Mercaux's Co-Founder & CEO Olga Kotsur shares her overview of the current challenges facing retailers, and what retailers can do to ensure long-term success amidst rising costs, dropping consumer confidence and ever-changing customer expectations in the backdrop of looming financial uncertainties.
As we approach another year with uncertainty, retail executives – like many their peers in other industries – are torn. Should they continue operating normally until the macro environment becomes clearer, making slight adjustments to their business plans, or should they make drastic changes to prepare for the worst case scenario?
Taking a view on consumer behaviour
Inflation, and what some have described as 'the cost of living crisis,' have been affecting consumers and their propensity to spend on non-essentials. This has been hitting retail profits hard, with 84% of industry leaders saying they expect market conditions to decline or stay the same in 2023 – a sharp contrast to the previous year where 91% of executives predicted market conditions would improve or remain the same. This comes as no surprise when considering global GDP growth is expected to fall to approximately 2.5 percent in 2023, as the threat of recession looms around the globe.
Customer spending patterns are changing, and what is certain is that unlike the previous pandemic crisis that shook up retail, online and offline channels will be affected differently – let's compare the two.
The time bomb of e-commerce vs soaring logistics costs
We are seeing inflation bear a much stronger negative impact on e-commerce rather than the in-store space, particularly as a result of a higher share of logistics costs in overall P&L. The prices for warehouse processing and delivery costs for big e-commerce operations have always been higher than for managing in-store logistics, and the costs for that have multiplied. This is just the first three steps – holding the stock, processing the order and shipping it, and last-mile delivery. We already saw brands cancel stock orders as demand from shoppers fell amidst a change in financial priorities.
The problem is not just limited to e-commerce. As Business of Fashion puts it, "it's clear that today's global supply chains are the product of centuries of growth but little meaningful evolution when it comes to risk management."
E-commerce has another ticking time bomb ingrained in its processes and operations – a high rate of returns. There are fundamentally two reasons why customers return an item. It was a spontaneous purchase and they changed their mind, or the item did not meet their expectations (in terms of quality, fit, colour, etc). On average, a returned product is costing brands between $21 and $46, and many have begun to pass costs down to customers, much to their dismay.
In the latest CB Insights State of Retail Tech report, we see that e-commerce funding is only at a quarter of 2021's total halfway through 2022. Quarter on quarter, e-commerce funding has been falling in all regions worldwide except Australia. This is evidenced by mass lay-offs from e-commerce giants like Shopify and Amazon. Simply put, e-commerce no longer has venture capital cash to burn at rates seen since the start of the pandemic. ONS figures show that the online share of retail has consistently fallen since it peaked in February 2021. Combined with a downturn in funding, profitability in e-commerce continues to be an issue due to ever-creeping customer acquisition costs. All of this is leading to less venture capital investment in high-growth businesses, as many have not been able to sustain their rapid growth. On the contrary, the in-store space and brick-and-mortar has always attracted less capital than its online counterpart, leading to them being more prudent with money and digital transformation projects.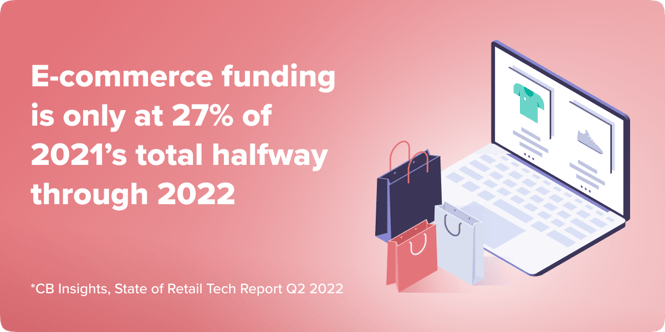 Customer trends in conscious spending
With the recession, consumers are conscious and are becoming far more disciplined about their spend. This is evident in a shift in behaviour, with customers now more likely to use the store to make decisions by touching and feeling products. In fact, a third of consumers say the ability to try on products is the highest in-store value-add.
With growing delivery and return costs, shoppers are also more likely to visit stores and therefore make more meaningful purchases this way. Flexible working patterns are leading to disruption on the high street with people shopping during the week and at random times of the day, and having brick-and-mortar presence will see retailers win.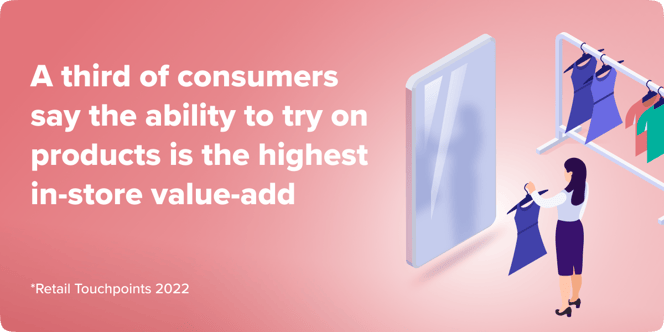 How should retailers react?
The customer you are selling to is no longer the same one from two years ago – they behave differently, and expect different things. We are seeing a need for certain tools and technology in-store that just simply was not commonplace a few years ago. Retailers should direct their investment into the offline space, because they need to reflect the fact that customers have spent the past two years getting used to the benefits of e-commerce.
More than three quarters (77%) of consumers now expect e-commerce payments to be instantaneous; the store needs to be able to compete with this by offering truly frictionless checkout without being tied to the traditional cash desk. Furthermore, customers expect free returns in-store - over half of consumers would be more loyal to a retailer that lets them buy things online and return in-store, according to Adyen. In turn, retailers should have a tool that not only supports frictionless returns, but also recaptures lost sales to get the most out of every customer that walks through the door. If a customer makes the journey to the store, retailers should make sure the customer purchases something else by cross-selling, upselling, and providing personalised shopping experiences in-store by viewing their online wish lists in order to increase the size of the basket.
The store has to turn into a more versatile space, and all of this is possible by utilising the omnichannel capabilities of composable in-store platforms that are available today. As Gartner explains it, "a composable business means creating an organisation made from interchangeable building blocks", which "allows organisations to finally deliver the resilience and agility that these interesting times demand".
If this seems daunting, I have good news - your investment in e-commerce is not wasted. The e-commerce boom is good for the in-store space. In order to adapt to the shift to e-commerce, many retailers will have built solid online foundations such as PIM and OMS, which can be extended into store to surface rich product data. In fact, by extended tools predominantly built for online into store (via simple APIs), retailers open themselves up to being truly omnichannel by being able to fulfil orders more effectively. A recent report by Retail Week concurs that stores should act as the physical manifestation of all these businesses offer in the online world.
Choosing the right solutions to future-proof the store
This agility is more important than ever before, as the past few years have shown we cannot predict what is to come. By choosing agile, interface-agnostic technology, retailers ensure they are future-proofing themselves for any changes in staffing structure. BRC data says nearly 650,000 retail jobs have been lost in the last five years – the fact that the role of the retail staff is undergoing change is clear. Research finds that brick-and-mortar stores and companies that have fallen behind on tech innovation will be among the most vulnerable to layoffs. If a significant portion of Sales Assistants are unavailable, retailers should be able to turn their POS into self-checkout, or turn in-store kiosks into points of self-service, discovery, and checkout. This can only be supported by implementing a composable architecture across the board, allowing for minute changes on the fly to support as many use cases as possible. You can learn more about the business benefits of composability, and how it can make every component of a retailer's digital offering pluggable, scalable and easily replaceable in our guide. The result of going composable? Being able to surprise and delight your customers with service and experiences that are ahead of their time, resulting in greater brand loyalty and LTV.
How do you make the leap to composable technology?
It's easier, and likely far less expensive than you might think. By calculating the true cost of ownership, not just including the software, the costs for legacy technology quickly add up. The cost of hardware, infrastructure, licensing, coupled with training, maintenance and upgrade costs means retailers who choose legacy technologies will see long-winded and poor returns on investment.
Although it may be initially cheaper, by locking themselves to one vendor, retailers may get stuck with long upgrade cycles and ultimately miss out on the flexibility and adaptability they so badly need. Instead, stakeholders should look holistically at more long-term solutions that enable new service models and consider that composable technology can offer far better value. If you are curious to hear more about this, we recently shared a fact sheet diving in depth into calculating the real cost of ownership, as well as different types of checkout.
In the meantime, if you have any questions about your own journey in digital transformation, please get in touch with us.