June 13, 2022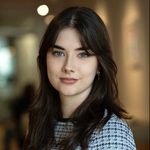 Akvile Peckyte
Marketing Executive
Shoptalk made its debut in Europe, bringing three thousand attendees from the retail industry together for a three-day event, with our Co-Founder & CEO taking to the stage to talk all things digital transformation. We attended all the on-stage talks, and now bring you some of our highlights from the various speakers of the show, covering topics such as new store formats through to making your retail business data-first.
The future of retail is experience, shared Nicole Srock Stanley, Founder & CEO of Dan Pearlman Group - we cannot download experiences, which is what makes them so desirable in the age of digitalisation. This sentiment was echoed by multiple speakers throughout the event, but what does this mean for retail, and more specifically, for the store? We look into how retailers should respond to this by deploying in-store technologies to enhance customer experience.
Mobile-first shopping in store
In a Shoptalk exclusive, Holden Bale, Head of Commerce at Huge Inc illustrated how mobile devices are aiding multi-channel customer journeys. 80% of respondents to their survey regularly use an online shopping cart to compare products, 73% use it to save products for later, and 60% use it as a shopping list for an in-person trip. A staggering 90% of consumers aged 18-24 always use their phone while shopping in stores, with a similarly high level for other age groups.
In her presentation on the changing consumer, Carla Buzasi, President & CEO at WGSN shared that 78% of shoppers will not download an app to complete a transaction, and 80% of respondents get frustrated with the retailer if an app download is required.
However, supporting mobile customer journeys without the need for a native app is possible. If you're curious about the opportunity to tap into this, take a look at Mercaux's QR Web App. Omnichannel product discovery, inspiring customers in-store and delivering a frictionless experience are all a tap away through our web-native solution.
Ensuring success when deploying in-store technologies
According to Roger Graell Sole, Global Ecommerce Director of Mango, in order for Sales Associates to adopt new technologies, they should be intuitive and painless to use - Associates simply will not use technology which does not help them provide smoother, faster service.
At a panel on stage, our Co-Founder & CEO Olga Kotsur shared her thoughts on how to ensure long-term success when deploying new in-store technologies:
For in-store digital transformation projects to succeed, staff adoption is extremely important, and it should be partially bottom-up driven. It is important to give Sales Associates tools that are easy to use and intuitive, and retailers should give them something that they are proud to use. By doing this, retailers also convey the message that stores are still extremely important by investing in them - they should show staff their trust and appreciation. When it comes to choosing the right tools, retailers should invest in technologies that are agile and continuously evolving. We have all seen many technology projects in-store failing and not getting the expected results as leadership does not ensure longevity or high adoption rates by having the Sales Associates in mind.
By choosing a composable in-store platform, retailers have freedom to decide how they transform their stores, the flexibility to work with the systems of their choice, and the agility to do it quickly, on their terms. Find out more here.
Data-centric future
The need for retailers to both collect and action data has never been clearer. Kees Jacobs, VP, Global Consumer Products & Retail at Capgemini pointed out that "Every touchpoint is infused with data; retailers need the ability to access data through partners to serve consumers better. Data can be infused, blended and leveraged along the consumer and shopper experience journey across channels." In order for a retailer's data strategy to succeed, data needs to come together in a privacy-centric manner, and to be digested and presented in a way that makes it easy to action. Want to know how to visualise your data easily? Our HQ Management & Analytics Platform brings powerful analytics under one roof, allowing retailers to action insights about in-store customer behaviour, associate performance, and more.
Bringing in-store online, and vice versa
Dirk Graber, CEO of Mister Spex, shared how his company's digital-first approach shaped their brick and mortar stores. In a session on blending physical and digital to create connected shopping experiences, the German glasses retailer shared why making the store the physical equivalent of the website allowed them to gain omnichannel success. By using the same software online and in-store, they were able to gather cohesive customer data. Furthermore, they got rid of their cash desks, and implemented technology that was as easy to understand and adopt as possible, both for their Sales Associates and customers.
Whilst digitally native brands have the advantage of not being held down by legacy systems, deploying this kind of next generation retail experience is easier than many retailers think. Utilising composable architecture means retailers can adopt to new service models quicker than ever before, and with less CAPEX and IT team strain than previous transformative projects. Find out more about composable architectures here.
The changing role of the store
Levi Strauss & Co are undergoing significant transformation - Richard Hurren, Global Head of DTC shared his thoughts on increasingly complex customer journeys, as many of their consumers will research online, and then go into the location for physical engagement. This journey is called ROPO - research online, purchase offline, and vice versa. Take a look at how we visualise ROPO journeys, and how in-store technology can help support smooth transitions between different channels with Universal Baskets, and more.