April 1, 2021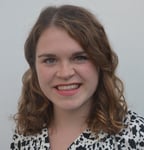 Faye Heron
Marketing Executive
As UK retailers prepare to open their doors, joining European neighbours whose retail restrictions have already been (or are about to be) lifted, we take a look at what retailers can do to prepare for this much-needed influx of business. How can retailers delight customers from store, while also optimising safety? How has the role of the store changed, and which of the lockdown trends are likely to make their way into stores? Find out more by reading our 5 retail reopening tips.
It's hard to ignore that the past year has seen an unprecedented number of retailers shutter up shop for good. And yet, stores continue to be a valuable asset for retailers, giving a brand its presence, visualising the product collection, and providing a valuable human touchpoint.
That said, the role of the store is changing, so what will reopened stores look like? The "new" retail store is no longer a simple sales channel, but a multi-purpose centre for acquisition, marketing, customer service, remote selling and fulfilment. Find out more about the different possibilities for your stores - and what you can do to entice customers back - by reading our 5 tips below.
1. Experiment with Experiential Retail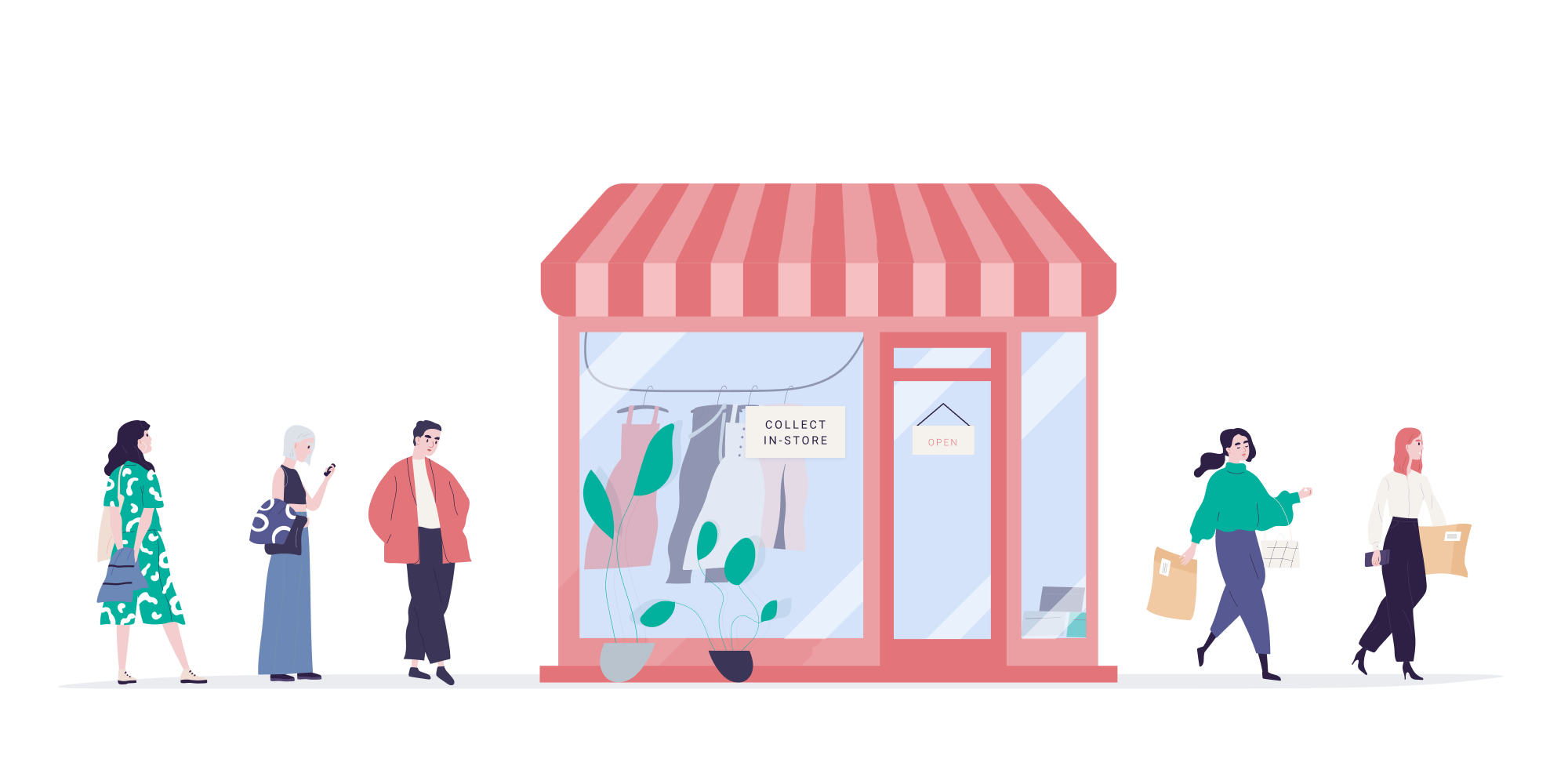 We've spoken before about the changing role of the store, and how it's moving away from a simple sales channel into a multi-purpose centre. As retailers prepare to reopen their stores, experiential retail will become more important than ever. Now that customers are accustomed to shopping online, stores must become destinations in their own right if they are to regain footfall.
Consumers need to be given a reason to make the trip to your store. One way to do this is to double down on the convenience factor, for example by converting your stores into a pick-up and returns hub for online orders, or by pushing the boundaries on store opening hours to ensure that products are available wherever - and whenever - customers need them. Alternatively, retailers could experiment with creating hybrid stores that serve a variety of different community needs. The past year has seen an uptick in innovative retail partnerships, such as Tesco launching shop-in-shops with a range of retailers including Holland & Barrett, Arcadia, Pets at Home and Next.
2. Offer Flexible Fulfilment In-Store
Offering in-store fulfilment has become increasingly common over the past year as a way for retailers to leverage locked-down stock and distribute products closer to the consumer. Retailers across the board have embraced flexible fulfilment methods such as Buy Online Pickup In Store (BOPIS), Curbside Pick-up, Click & Collect, and Ship from Store. These services will take up a firm part in retail's new normal too.
Retailers should think about supporting the other end of the supply chain too, offering Buy Online Return In Store. As stores reopen, there is likely to be a rise in in-store returns, as customers come to exchange or send back items they've been clinging onto throughout lockdown.
As stores reopen, these options - particularly BOPIS services - should continue to be a priority, giving customers a convenient and seamless experience that unites online and online channels. By offering Buy Online Pickup (or Return) In Store, you can entice customers back into store, and while they're there, you can capitalise on this visit to maximise that all-important customer lifetime value, for example by using clienteling capabilities to suggest an alternative product. Learn more by reading our dedicated fulfilment blog post, which takes an in-depth look at which fulfilment options you should be offering, why, and how to get started.
3. Make Safety a Priority
One of the biggest challenges for retailers over the next few weeks will be how to persuade consumers that it's safe to return to stores. There are plenty of existing options out there for reassuring your customers that your stores are safe (read one of our previous posts on the importance of "safety theatre" here), but there also lessons to be learnt from recent developments in the grocery sector, whose shops have been open throughout the pandemic. Aldi, for example, has rolled out a real-time traffic light system to signal whether customers can safely enter stores. Instead of having someone manually count shoppers into the store, retailers should think about deploying imaging technology to keep an accurate record. Crucially, this information should then be made available to customers - real-time occupancy levels could be accessible via a web app, scannable QR code, or linked with an interactive shop front display as with Aldi's traffic light system.
Here at Mercaux, we have seen first-hand how important it is for retailers to integrate COVID-secure practices into their retail reopening plans. As Mercaux customer, Scotts, explains:
"We're all focused on re-opening the stores successfully, so the Mercaux App has helped us with keeping on-top of replenishment. The basket functionality allows us to build lists of items to replenish and send to colleagues digitally so we can ensure we're all staying safe and maintaining social distancing in the back areas."
Chris Blench, Area Sales & Operations Manager, Scotts Menswear
4. Provide Contactless Services
Once you've shown customers that it's safe to return to stores, the focus should be on providing a sufficiently reassuring in-store experience that they want to make a repeat visit. This is where contactless options come into play, giving your customers the digital tools to self-serve across their entire path-to-purchase.
To provide customers with a leading in-store experience, the focus should be on balancing safety with speed of service. With this in mind, self-service check-outs and mobile POS will become minimum requirements, and we are likely to see retailers embrace more innovative touchless shopping options too, like in-store QR codes and consumer Apps.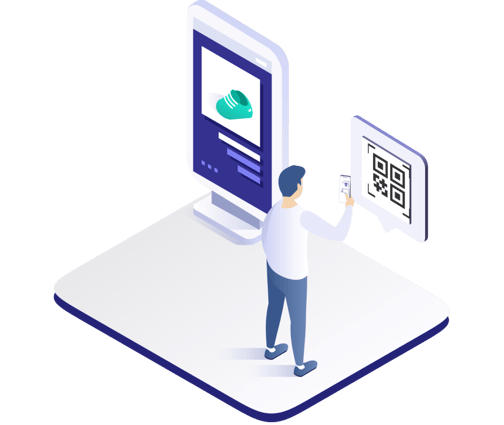 5. ... And Don't Forget About Stay-at-Home Customers
As a final point, keep in mind that not everyone will feel comfortable returning to stores as soon as they open. When stores reopened after the first COVID-19 wave, Mercaux's own research uncovered that, despite 36% of consumers not feeling comfortable returning to stores, 67% were keen to engage with retailers remotely - we can expect similar sentiments this time, too. For those shoppers who are anxious about returning to stores, remote selling connects home customers with in-store Sales Associates via SMS, WhatsApp, video call or email. With remote selling capabilities, retailers can use stores to connect with stay-at-home customers, giving shoppers access to the perks of in-store shopping from the comfort of their own homes.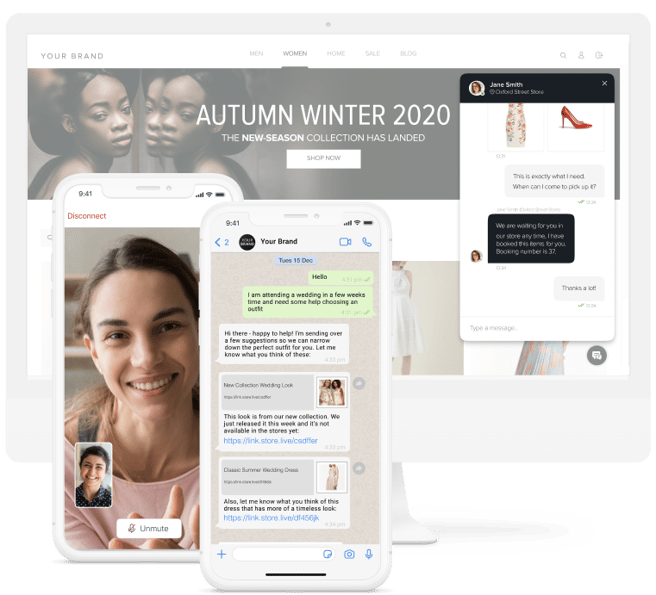 When remote selling is used to its full potential, retailers can drive sales by delivering a personalised shopping experience from store, keeping customers engaged by giving them 121 access to the specialist styling advice of Store Associates, who can walk them through the new product collections and offer bespoke styling advice. If you have any questions about remote selling from store, and how to get started, please view our product sheet and feel free to get in touch.
There are several things for you to consider between now and retail's reopening, whether that's fulfilment, remote selling, customer safety or experiential retail. The thing to remember is that, even though the role of the store is shifting, stores are still a valuable asset, giving retailers a way to delight customers.
For more ideas on optimising store safety, click here for details on our Consumer Web App on our Consumer Web App, which gives your customers the digital tools to self-serve and therefore maintain social distance in-store.