May 7, 2020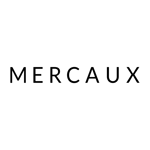 Mercaux
Respond, Recover and Reimagine post-COVID-19 Resource Centre
Retail is facing huge challenges as an industry. At the same time, we are trying to look ahead and think about how this lockdown will fundamentally affect retailers, so we can come out stronger on the other side. This resource centre contains materials to help you to respond, recover and reimagine how your retail business will operate differently post-COVID-19.
Resource Centre Content
Recover and Reimagine Focus:

Job Role Resources

Best Practice Case Studies during lockdown

Third-party resources we recommend




Reports

Articles
1. MERCAUX'S STATEMENT ON RETAIL'S RECOVERY FROM COVID-19
Following the analyses of the pulse or retail survey, and discussions we've had with the retail community, analysts, consultants and investors, the following report was produced to set out the steps that we believe retailers need to take in order to recover from this crisis.
Here at Mercaux, we not only see light at the end of the tunnel, but also an opportunity for retail to reset. This will mean high-level structural changes in the industry that will enable Retail 3.0, bringing the best of digital and physical together. Download here.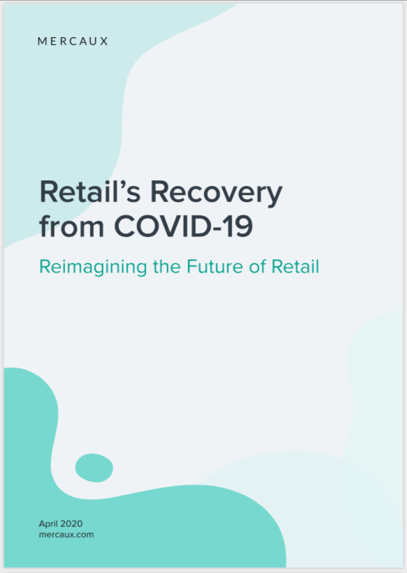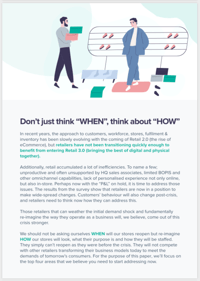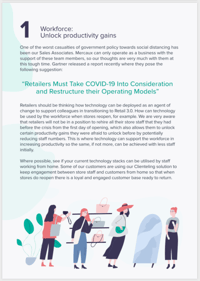 This report highlighted three pillars that retailers need to address in order to serve a customer who now has changed and heightened expectations of your company:
Staff
Stock
Stores
2. THE "PULSE OF RETAIL" - COVID-19 SURVEY REPORT
The first stage in recovering from a crisis is to understand the position in which we must recover from. This is why we decided to conduct an industry-wide survey of 35 retailers, across the UK, Spain, Italy, Russia and USA during a phase in the COVID-19 pandemic when governments across the world had enforced store closures: March-April 2020. Download here.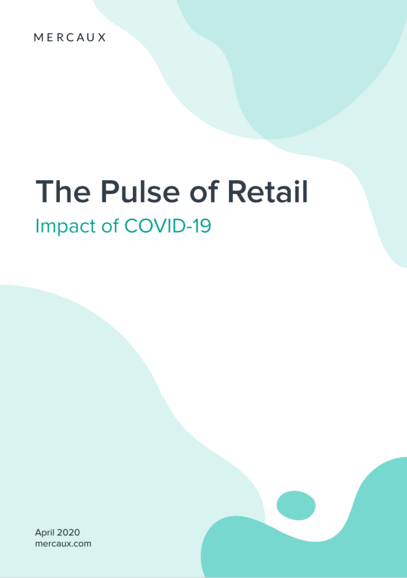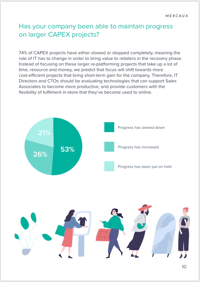 .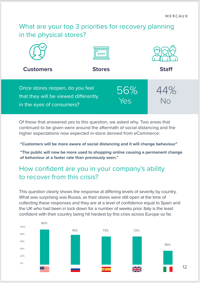 3. Recover and Reimagine Focus
3.1 Executive Summary
Over the course of a month in the height of lockdown, we launched a respond, recover and reimagine series of webinars, blog posts and infographics to help retailers prepare for the " next normal" in retail post-COVID around their three most important assets: staff, stock and stores. You can view each one in more detail below this section. If you would like to see a summary of all three combined, we ended the series with an Executive summary. All the assets can be found here: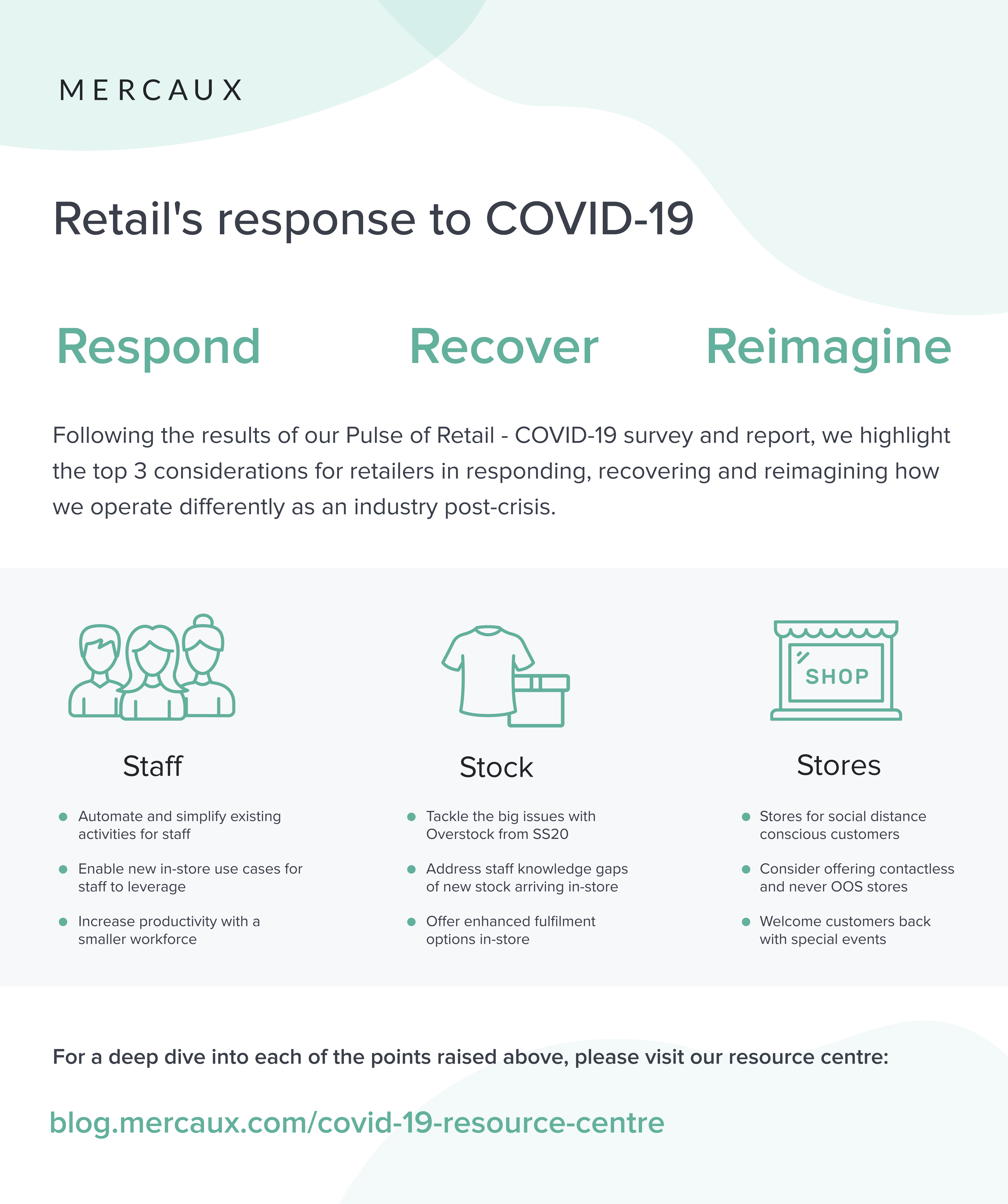 3.2 STAFF
Retailers should be thinking how technology can be deployed as an agent of change to support colleagues in transitioning to Retail 3.0 (bringing the best of digital and physical together) when stores reopen, and boost their productivity in the initial quieter weeks and months.
We also see Sales Associates owning a whole new set of tasks and activities post COVID-19 that power important functions of retail. This is particularly the case when it comes to boosting client loyalty and engagement via personalised in-store experience, and even driving footfall to stores via content creation on social media channels.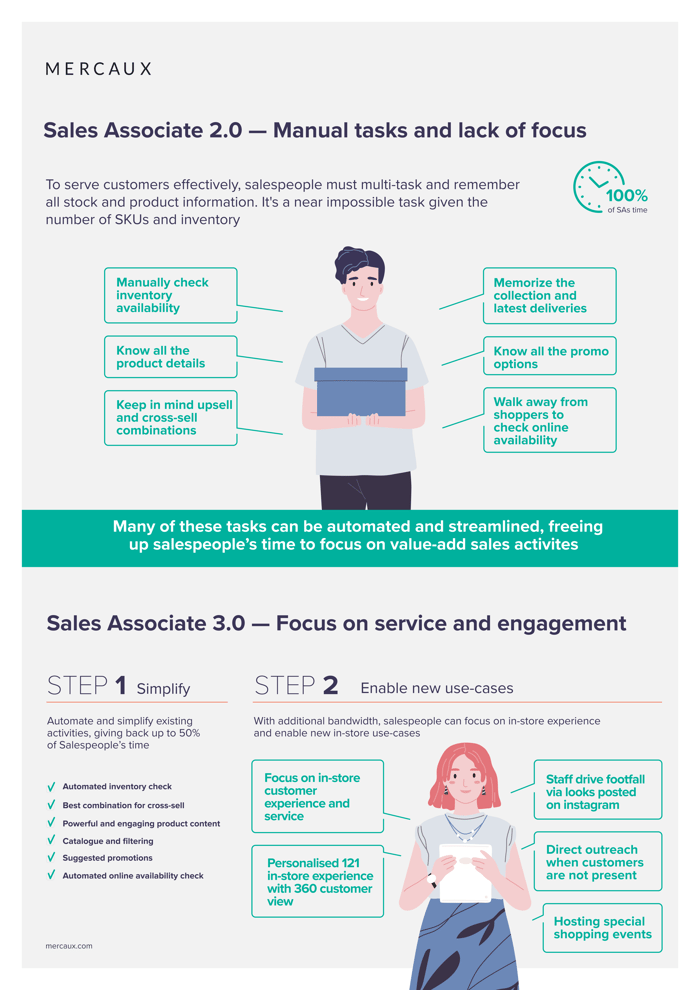 3.3 STOCK
You simply cannot afford to be saying 'no' to a customer when stores reopen. If a product is not available in store, store associates should be able to order it online and ship to home, click and collect in another store or offer an alternative product easily - just as consumers have become use to online. These are a few examples of the post-crisis "inventory & fulfilment basics" that need to be offered in-store.
Retailers are also tackling a big SS20 overstock issue. How do we overcome this?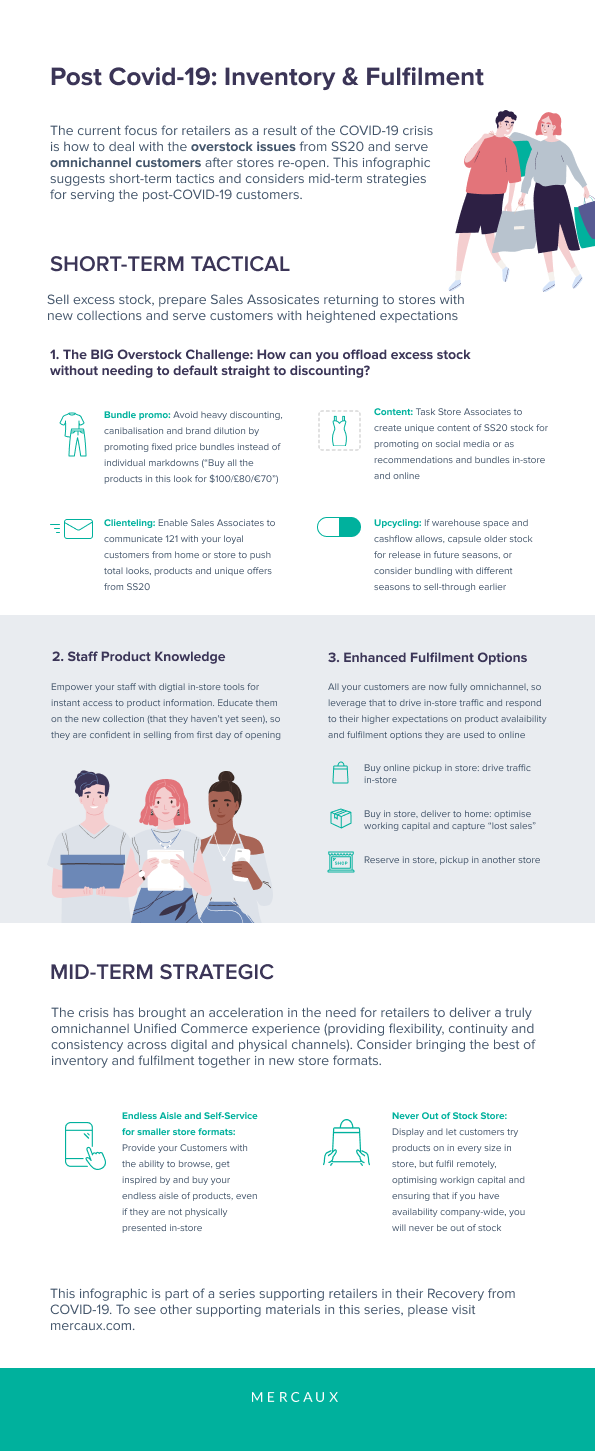 3.4 STORES
More than half of respondents to our survey felt that customers will view stores differently when they reopen. But what will these new expectations be?
Should you be opening "contactless" stores? Is now the time to offer "never out of stock" stores? What benefits from the digital world can I bring in-store? What can I do to drive traffic to the store that's different/exciting? All these considerations are covered in our blog post and webinar below: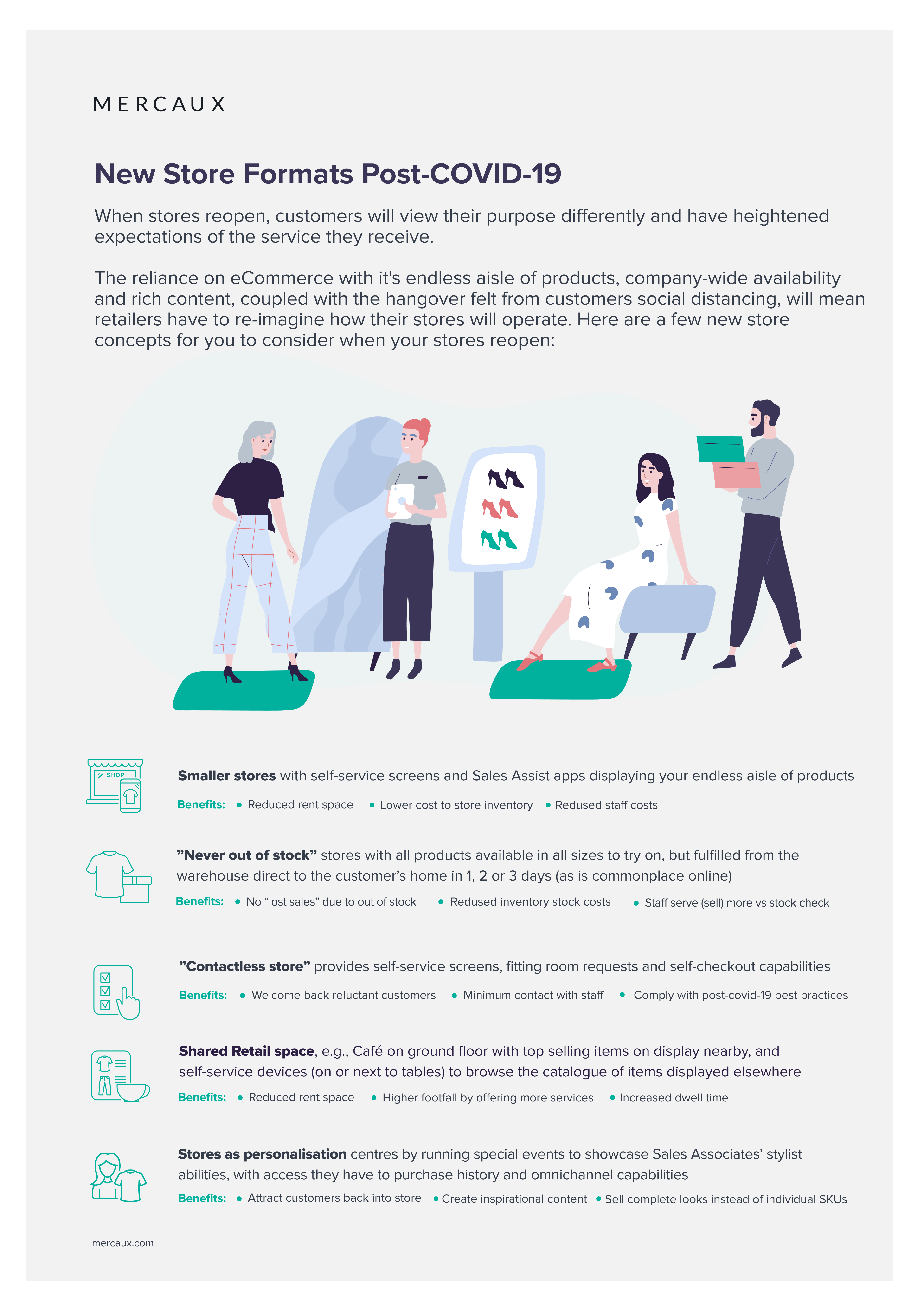 3.5 INITIATIVES MATRIX
The key message of using this matrix is finding the right balance for your company - what works best with potentially limited resources and funds. Due to the pressing nature of the world, we feel it best to scrap the current cost-benefit analysis of weighing up options of long-term vs short-term or if it's easy or hard, simply because time is of the essence. Our suggestion is to implement a timeline approach of asking - when will you see those benefits in the short-term. You can read a detailed explanation of this matrix by visiting the blog post below: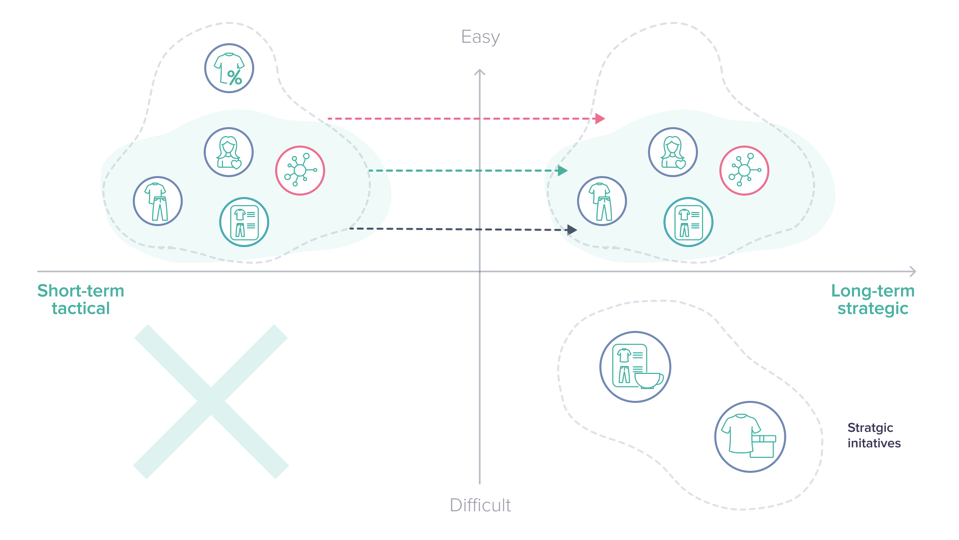 3.6 EARLY LEARNINGS FROM STORE REOPENINGS
Customers will be having to get used to a new normal of shopping, as net consumer optimism decreases. Shoppers are keen to see an increased emphasis on cleanliness and safety, with many opting for reduced contact shopping options. We explore more of the early learnings from store reopenings here:
4. JOB ROLE RESOURCES
4.1 HEAD OF RETAIL
Leaders in retail should not be asked when will my stores reopen, but how will my stores reopen? The reliance on eCommerce with it's endless aisle of products, company-wide availability and rich content, coupled with the hangover felt from customers from social distancing measures will mean retailers have to re-imagine what their stores will be, in order to survive. We've put together a blog post to highlight the main considerations you need to make in order to live up the customers' heightened expectations - the 'new norm' in retailing:
4.2 CIO/ CTO
How can CTO/CIOs drive retail innovation post-COVID-19 with limited budgets and resources?
COVID-19 has inevitably changed the game for retailers - the stoppage and slowdown in global industries have led many to either innovate, survive or, well you know the third outcome... Retailers who are looking to come out ahead of the pandemic (and its effects) are ever-more-keener to now provide that true omnichannel experience. However, they've long been inundated with the fact that it is linked to heavy CAPEX spending. Both I and the wider Mercaux Team are confident that this needn't be the case and feel CTO's can have a sizeable impact on their respective businesses and its outlook with a limited budget.
With lean teams and CAPEX-cuts, are configurable solutions the way forward for innovation?
At a time of unparalleled change and immense pressure on retail technology departments to deliver short-term gains for the business (with a lot less budgets and resources to hand), talking about big "strategic initiatives" will likely get a muted response from management teams – unless it's followed swiftly with, "quick", "cost-effective" and "revenue generating".
Read blog post
4.3 CHANGE/TRANSFORMATION MANAGERS
Way before the current COVID-19 crisis, retail had seen a huge influx of change/transformation managers join retailers on the request of board directors and senior management teams alike. Having a direct line into senior management, and often given a remit to build cross-departmental transformation teams, gives these individuals a holistic view and understanding of the business as a whole – the strengths (and weaknesses) of departments and individuals. So, having the strategic narrative of the senior team and the tactical understanding of individual teams (and team members) gives this individual an understanding of how to support the company in times of change - the impacts of COVID-19 is the biggest they are likely to ever see.